Published on:
Aesthetic App Icons: Best IOS 16 App Icons to customize your iPhone home screen aesthetic
Authors
Ability to customizing your iPhone may be the best thing that happened in 2020 with the update of the IOS 14. It starts by downloading aesthetic app icons packs and then using the Shortcuts app to create new icons for your apps and hide the old ones.
There are many IOS 16 aesthetic ideas for your home screen already out on the internet, but here are some more ideas you can use by getting the Calm icon pack.
Apple icons are always designed by the company that builds the app so they have special brand guidelines. Icon packs have their own visual identity, which redesigns the icons to have the same look & feel. This creates consistency and clarity as they work well together.
Table of Contents
How do I customize my iPhone icons aesthetic?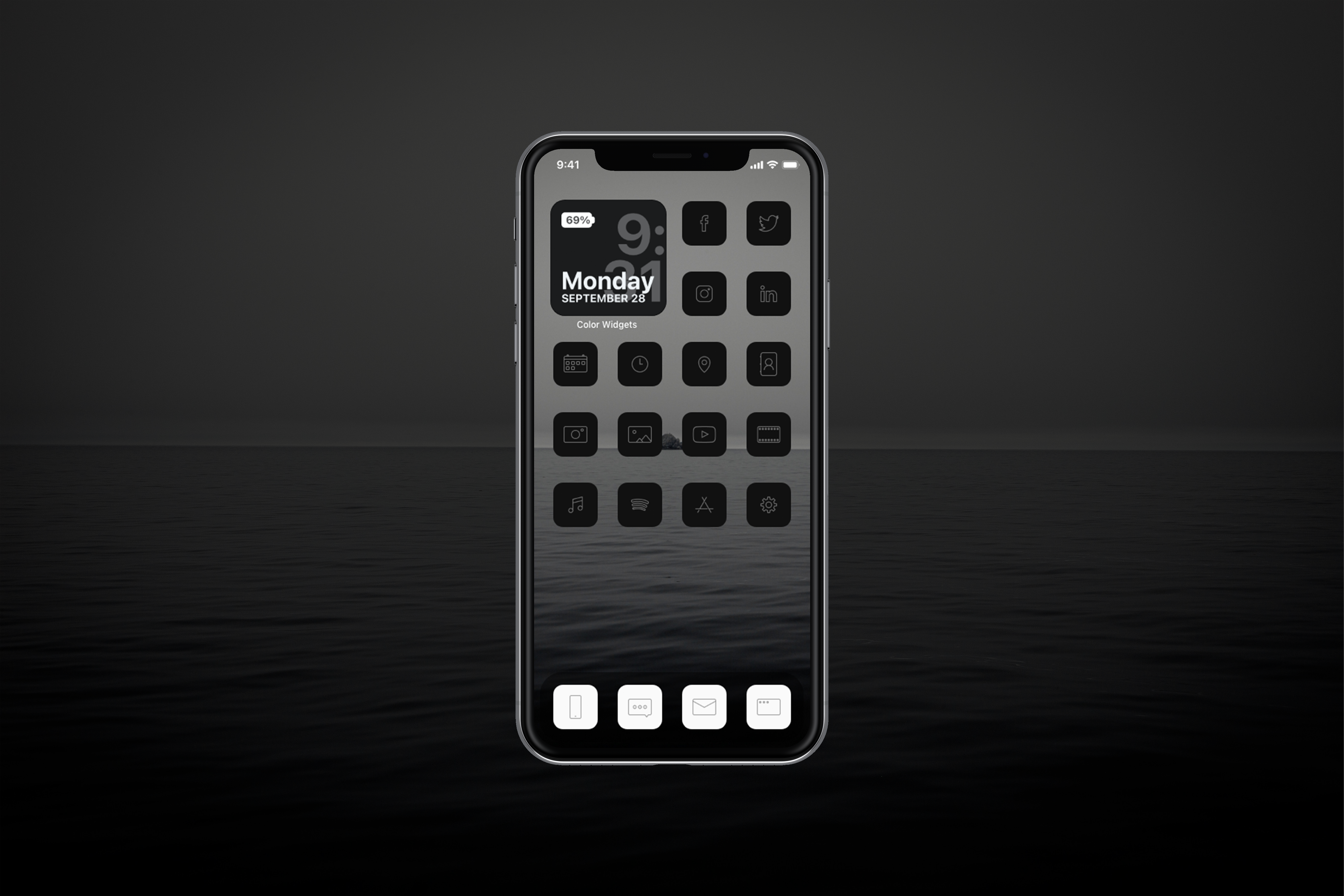 Use the Calm icon pack available with black icons theme with a black and white background photo to get this desired effect. These aesthetic icons for apps work really well on a variety of screen wallpapers so play around with your photo library to make it more personal.
The look and feel of these app icons aesthetic with the photo are really hi-end, clean and classy. Think of hi-end black cars or fashion brands.
Where do I get iOS 16 icons for all my apps in one pack?
Looking for the best iOS 16 app icons & themes? Check out the Calm pack. Download the icons pack below.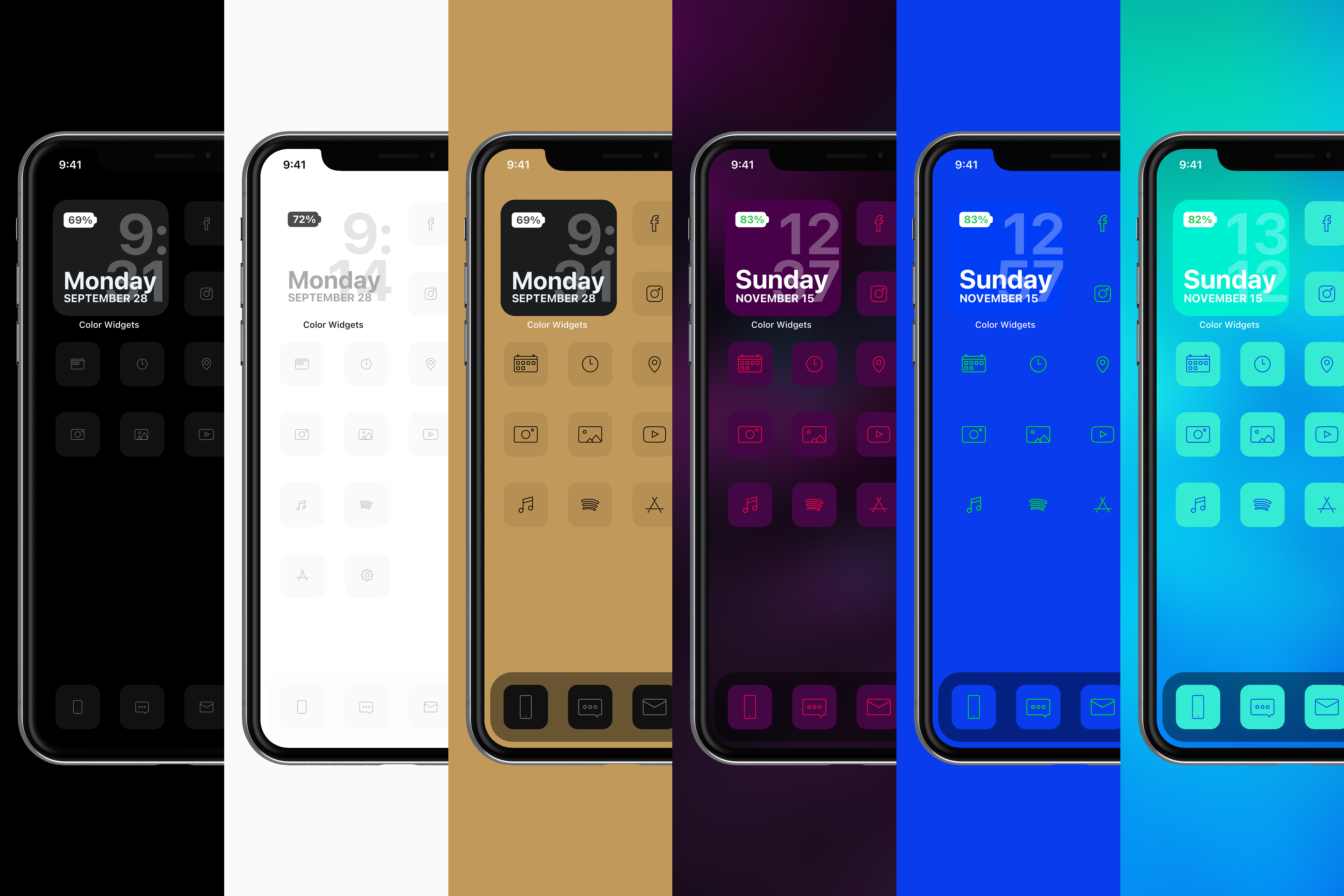 This iPhone app icons comes with +130 icons and 6 theme colors (black, white, purple, blue, mint and gold) which opens up a lot of possibilities to mix things up on your iPhone home screen.
Each aesthetic icon is custom made and professionally designed to keep the look & feel consistent making this a great icon design set.
Pick an IOS 16 Icon set that has many icons to have most of your apps covered. The Calm theme above also has the option to request new icons so you can have all your app icons customized. There are thousands of iPhone apps so this is an amazing feature available from the creator.
Etsy could also be a source of products inspiration to improve aesthetic iPhone.
How do I change the look of my icon for my apps?
All the iPhone app icons form the Calm packs have been professionally custom designed.
The icons theme comes in 6 custom app icons themes:
The aesthetic of these is great and even combining an icon from the different pack can have a great visual effect. Apps are made to be changes, reorganized and even played with.
The Calm app icons aesthetic also helps with phone detox as you can't see the red circle with the number of notifications. This is a dark pattern of design and is made to hook a phone user to constantly check the home screen or open the app.
Another part of customization are also IOS 16 widgets which not only extend the look but also the functionality.
Can I customize iPhone icons with a better aesthetic?
The answer is "No, but…" as you can't really change the icons directly (although Instagram has this option), but you can use the Shortcuts app. Your ios 16 aesthetic home screen will look great, but it will be full of shortcuts and not directly app icons which you may want to hide so you don't have duplicates.
Shortcuts icon aesthetic is a bit ruined by the user experience this hack provides. You actually open op the Shortcuts App first, which then opens your selected app. So there's a split second where you see this transition. But Apple is already working on IOS 16.3 which has this transition improved greatly.
Users are spending hours playing and customizing their phones, it's become another phone obsession.
How do I change app icons on iPhone shortcuts?
This detailed step by step guide will cover the steps you need to make that will show you how to create an iOS 16 aesthetic with app icons.
Download your theme pack and upload it to iCloud or Dropbox which you can access from your phone. This will help you quickly change the icon for each shortcut you create.
Open the app for Shortcuts. This is where you'll be spending most of your time.
Tap "plus" button in the upper-right corner of the screen to add an additional shortcut.
Click the button that says "Add Action".
On the next screen, you will select the "Scripting Option".
Choose the "Open App" button.
Tap the choose "Chose" button and select an App that you want to open.
You can use the search option to find the app faster and easier.
Click the button with the 3 circles for more information.
Tap on the "Link to Home Screen" button which will add the shortcut to your homescreen.
Tap on the small generic icon below.
Use the "Choose File" option to select the custom app icon. In the iCloud or Dropbox folder, search for a specific icon within the uploaded icon pack.
Once you find the image with the icon you want to use, you can rename it the shortcut.
You can also remove the name to have a cleaner screen by pressing the "X" button.
A popup will open with a note.
The new icon shortcut will now be visible on your home screen.
How do I change the color of my apps icons aesthetic?
The only way is to have aesthetic icons for apps in special color combinations (background color and icon color) that work well together. Your downloaded app icons need to have themes that have these colors because you get high resolution JPG or PNG images which can't be changed or colored. You could get away with some Photoshop skills, but the results are not perfect.
One of the most popular aesthetic app icons are black and white themes. You can use the one you like or based on your phones color or dark mode or light mode you may be using.
Photos icon aesthetic also needs to be taken into consideration as these backgrounds can make or break your icons. A good way to test this is to put a background you really want or like and try a couple of different app icons to see what looks good. When you know what you like, you add the other icons.
Black and white photos work really well with black aesthetic app icons for your iPhone.
How do you make icons invisible on iPhone for achieving a cleaner app aesthetic?
This is a hard thing to do but it's possible. You need another app that actually creates the image of the icon from the screenshot of your background. Then you create the iPhone home screen icon without the name and put it on the right position.
There are many steps involved, but the aesthetic effect if great and rewarding if you have patience.
Here's a great video that shows how to make invisible icons on your mobile around your apps.