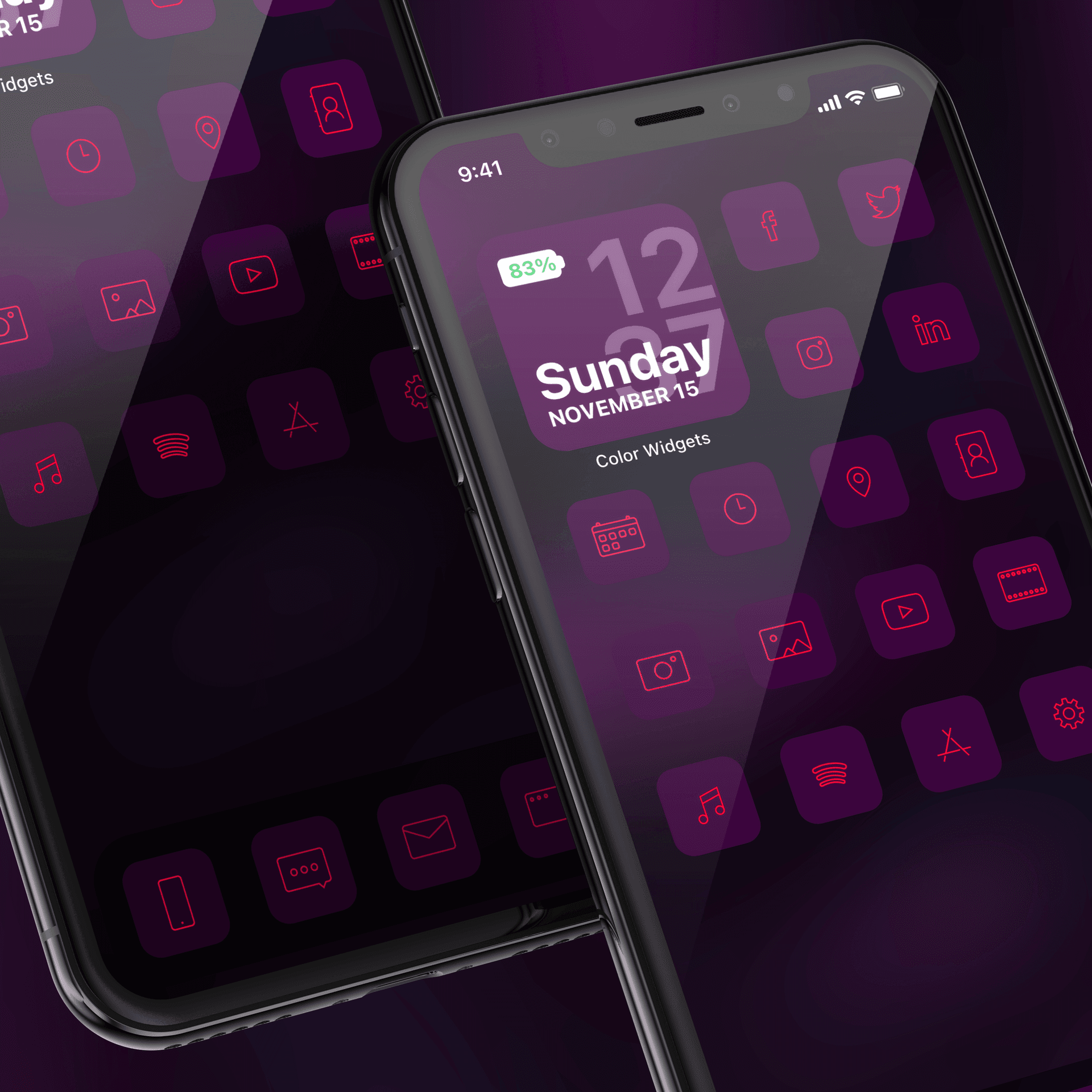 380+ Calm Purple IOS App Icons
for iPhone & iPad
Elevate your iPhone home screen with the stunning Calm Purple IOS App Icons. This set features +380 custom-designed icons in shades of purple, from deep and rich to light and airy.
App Icons
Normal & Seamless variation in both High & Low Contrast
381
$5
Buy Now
100% MONEY-BACK GUARANTEE
14 Days to try. Not for you? Get a full refund.
Are you an iPhone user who's looking for ways to jazz up your home screen? Are you bored with the same old app icons and want something more vibrant, stylish and modern? Well, look no further! With some creativity and a few tools at hand, you can customise your iPhone home screen with beautiful purple app icons.
As a mobile app developer/designer, I know how exciting it is when users experiment with new ideas that involve personalising their devices. It shows they have a subconscious desire for innovation and are eager to take risks in order to get unique results. So if you're ready to explore this world of colourful possibilities, let me show you how easy it is to create a stunningly attractive purple-themed iPhone home screen.
From finding the right images online or creating them yourself using photo editing apps, there are plenty of options available for making one-of-a-kind icon designs. And once your desired purple theme has been achieved, all that's left is setting up your new icons so they appear on your phone as soon as possible. Let's jump into the details - read on to learn exactly how to customise your iPhone Home screen with purple app icons!
Benefits Of Customizing Home Screen Appearance
Do you remember the thrill of unboxing your first iPhone? That feeling of finally having a device that's uniquely yours and ready for customization. Now, imagine how much more exciting it could be to personalize your home screen with purple app icons! Customizing your phone has many benefits — from increasing its aesthetic appeal to adding an extra layer of personalized style.
When creating a custom home screen there are plenty of options available. The vibrant colors and unique shapes make it easy to create something truly unique. Not only can this help differentiate your device among others but also add an extra level of visual appeal. It allows users to express themselves through their devices in ways they couldn't before by expressing who they are and what they enjoy.
Customizing your phone is not just about making it look good either; it helps keep things organized too. By grouping apps according to use or theme, you'll have faster access when searching for them on the home page. Plus, it will save time scrolling around trying to find what you need quickly — which is especially helpful if you're constantly multitasking between tasks and apps. So don't wait any longer - customize your iPhone today!
How To Change App Icons To Purple
Customizing your iPhone home screen with purple app icons is an easy and exciting way to make your device stand out. It's a great way to express yourself and personalize the look of your phone in a few simple clicks. The process of changing app icons to purple can be done quickly and conveniently using various customization software apps available on the App Store.
To get started, you'll need to find an app that allows you to change the color of individual apps or entire home screens at once. Once you've selected the desired software, it's time to start customizing! You may choose from a range of hues for each icon, including different shades of purple as well as other colors like blue, green, yellow, pink, red and more. There are also options for adjusting fonts and backgrounds so you can completely customize your iPhone home screen with unique designs. After making all changes, simply save them and enjoy your new look!
With just a few taps of your finger tips, you can easily transform the appearance of your iPhone home screen by adding vibrant purple app icons. Whether you prefer subtle pastel purples or bold neon ones – there are plenty of customization options available that will let you show off your style. So go ahead – unleash some creativity and have fun customizing your iPhone today!
Tips For Creating Aesthetic Home Screens
When it comes to customizing your iPhone home screen, the options are virtually limitless. According to a recent survey by Apple, over 2 million people customize their iPhones each day! With this in mind, let's take a closer look at how you can create beautiful aesthetic home screens with purple app icons.
Creating custom icons is an excellent way to spice up your home screen and add some personality. When choosing purple app icons, be sure to select ones that match the overall theme of your phone's aesthetics. For example, if you have a mostly white background on your phone, then choose lighter shades of purple for the app icon color. On the other hand, darker backgrounds lend themselves more towards bolder colors such as deep purples or even pink hues. It all depends on what type of mood you want to evoke when looking at your phone!
To further enhance the design of your home screen with purple app icons, try adding widgets or creating small patterns using different apps. You could also experiment with larger text sizes or varying font styles to give your home screen an added layer of customization. Ultimately though, always remember that personalization is key; make sure that whatever style choices you make reflect who you are and what makes you unique!
Conclusion
Personalizing your iPhone home screen with purple app icons is a great way to show off your unique style. It's easy, affordable and can make you stand out from the crowd.
You don't have to stick with just one color either; there are tons of colorful options available for those who want their device to really pop. Plus, you can even customize the home screen using images or widgets – allowing you to really express yourself in ways never before possible!
But while customizing may be fun, it's important to remember that any changes made could put your data at risk if not done properly. That said, by following best practices when customizing and being aware of potential risks associated with it, you'll be able to enjoy all the benefits without worrying about anything going wrong. So go ahead - let your creativity shine through and personalize away!