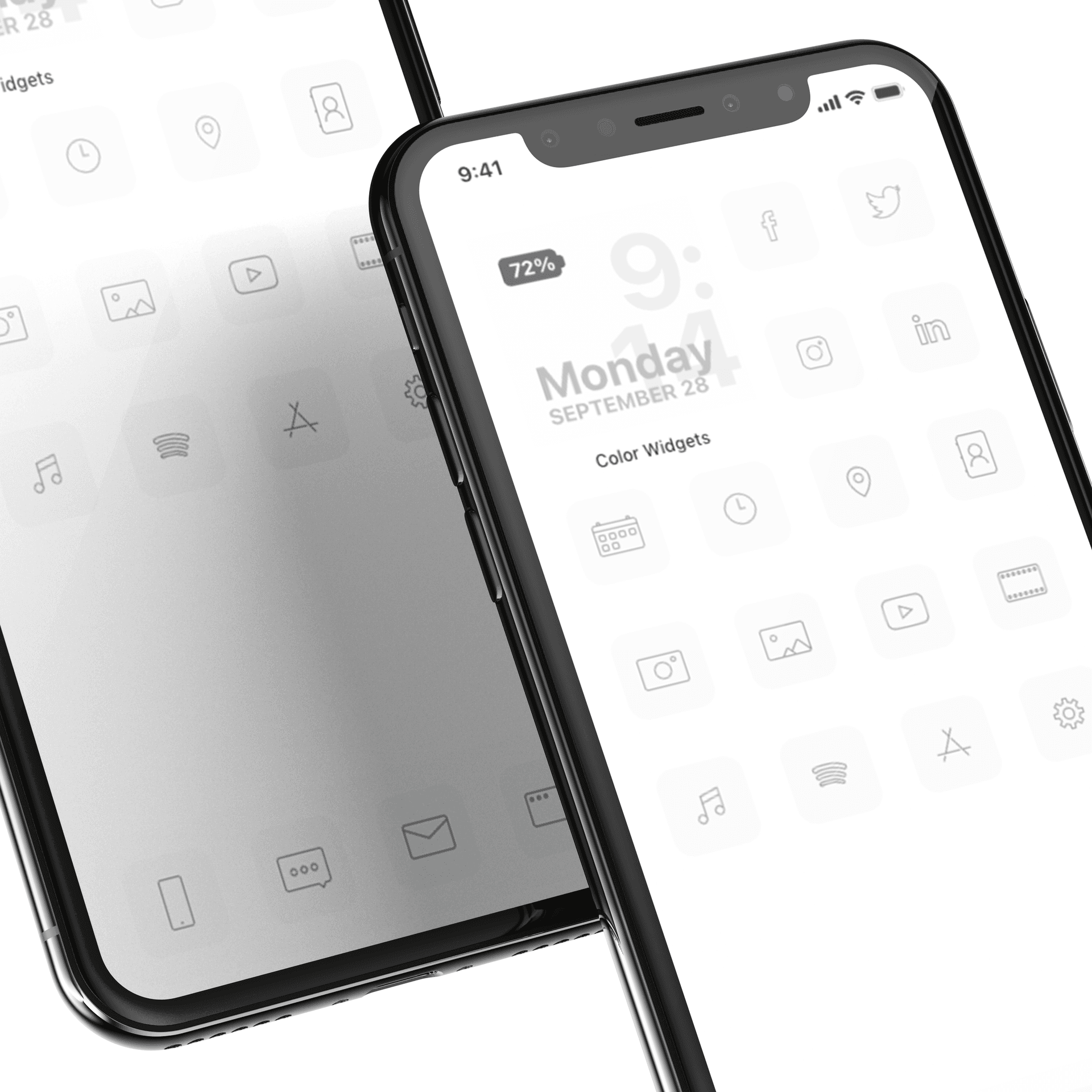 380+ Calm White IOS App Icons
for iPhone & iPad
Personalize your iPhone with the elegant Calm White IOS App Icons. Your phone's home screen is the initial interface you encounter upon unlocking your device. Therefore, it should be visually appealing and organized, devoid of any unnecessary elements.
App Icons
Normal & Seamless variation in both High & Low Contrast
381
$7
Buy Now
100% MONEY-BACK GUARANTEE
14 Days to try. Not for you? Get a full refund.
Hey there iPhone users, it's time to get creative! Looking for a way to stand out and personalize your home screen? Well, you've come to the right place. I'm here to show you how easy it is customize your phone with white app icons. You don't need any special tools or tech skills – just an eye for design and a bit of creativity. So let's get started on transforming your homescreen into something unique and exciting!
Doing this yourself is really simple; all you have to do is access your settings and pick colors that match your style. With so many options available, from minimalist white designs to bolder black-and-white combos, you can easily find the perfect look for your device. And if that wasn't enough, customizing with white app icons also helps make navigating easier by making apps more visible against other colors in the background.
So why wait? Let's take a few minutes now to transform your device into something truly special that reflects who you are. Whether you're looking for subtle elegance or eye-catching vibrancy, I'll show you step-by-step how easy it is create a personalized look that will turn heads everywhere you go!
Overview Of Customization Options
Ah, the iPhone. It's one of the most recognizable pieces of technology in our lives today. But what if you could make your phone look even more unique? With some simple customization options, you can personalize your iPhone and its home screen with a range of themes, app icon designs, and setup choices that will make it stand out from the crowd!
From light to dark backgrounds, color-coordinated folders, classic monochrome icons – there are so many ways to customize your device and make it fit your style perfectly. You can also choose between different fonts and layouts for an added touch of personality. Take advantage of these features to express yourself through your iPhone's design!
Aesthetic Benefits Of White Icons
White app icons can provide a minimalist look to your iphone homescreen. With its clean design, white icons stand out against the default colourful backgrounds and improve readability by making text easier to see. This simple layout creates an aesthetically pleasing visual appeal that will draw attention to your device.
Whether you're looking for a way to express yourself through design or just want something new and exciting on your phone, white app icons give you the opportunity to customize without compromising on aesthetics. Not only are they visually appealing but they also offer users an improved user experience with increased efficiency and productivity when navigating their devices.
They make it easier for users to quickly locate apps since all of the icons have a consistent colour scheme which makes them more identifiable. Furthermore, users find the uniformity of these icons calming in comparison to those found in other designs.
White app icons allow you to create a modern, unified look throughout your entire homescreen while still allowing for personalization options like rearranging icon placements and adding custom wallpapers. With this minimalist aesthetic, you'll be sure to turn heads with your unique customization!
Steps To Create A White Icon Homescreen
Have you been searching for ways to customize your iPhone homescreen? Adding white app icons can be a great way to give your device's home screen an aesthetic boost. Here are the steps needed to create a white icon homescreen:
Choose what apps you want on the home screen, and determine which ones need customizing with white icons.
Download or research available white app icons online. Ensure they fit with your choice of apps before downloading them onto your device.
Select all the appropriate icons in the 'settings' tab of each chosen app, replacing the default plain colored version with the new customized look. Be sure not to forget any!
Preview how it looks by resetting the homepage, then save it when you're satisfied with the results.
With these simple steps, customizing your iPhone's homescreen has never been easier; enjoy its fresh and unique appearance while benefiting from improved usability through clear identification of individual apps!
Conclusion
I'm here to tell you that customizing your iPhone homescreen is not only possible, but it's also the best way to make sure your phone stands out from all the others. With white app icons and a personalized background, you can create an eye-catching display that will draw attention wherever you go.
The cost of customization is minimal - many apps are free or just require a small fee. You don't have to settle for Apple's default apps either; there are plenty of other options available if you want something more unique. And if you really want to stand out, there's even a way to change the size of your icons!
At the end of the day, customize your homescreen with whatever makes YOU happy. It might take some trial and error before you get it just right, but when people see how creative and unique your design is they'll definitely be impressed. So go ahead and start sprucing up that home screen – I know I am!