Published on:
Calm - FREE IOS 16 App Icons pack for customizing your iPhone home screen aesthetic
Authors

Name

Twitter
Your smartphone feels cluttered because there are too many apps and icons. With Calm app icons, your iPhone's homescreen can look simple and beautiful!
Customize the look of your iPhone home screen with +330 beautifully designed IOS 16 App Icons. Best way to experience a more calm iPhone screen instead of looking at a busy and cluttered aesthetic.
This is an alternative icon pack that will make you feel like you have a new phone. It's time to get rid of those boring old stock icons and replace them with something fresh and unique. It works for iPhone SE, XR and anything from generation 12 and up.
Table of Contents
Each icon is custom designed and unique to get the desired clean look & feel. IOS 16 allows the customization of the home screen with the Shortcuts' app this icon set feels like a new iPhone.
Try it out and use the Shortcuts app to customize your home screen and make your iPhone a flashy, specifically customized phone. Use your widget options to add some fun and cool stuff to your iPhone.
Calm IOS 16 themes: Calm features 6 themes for your iPhone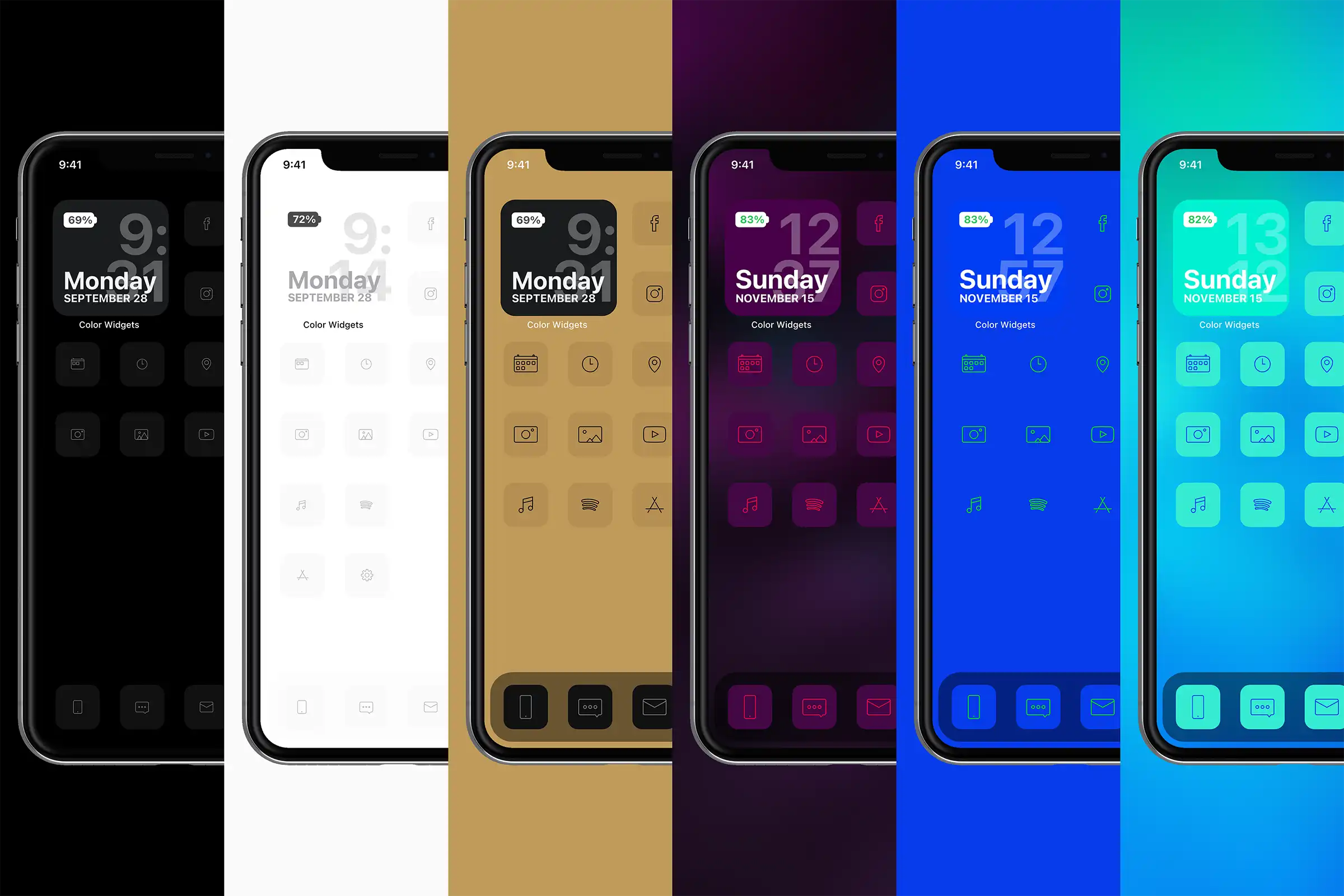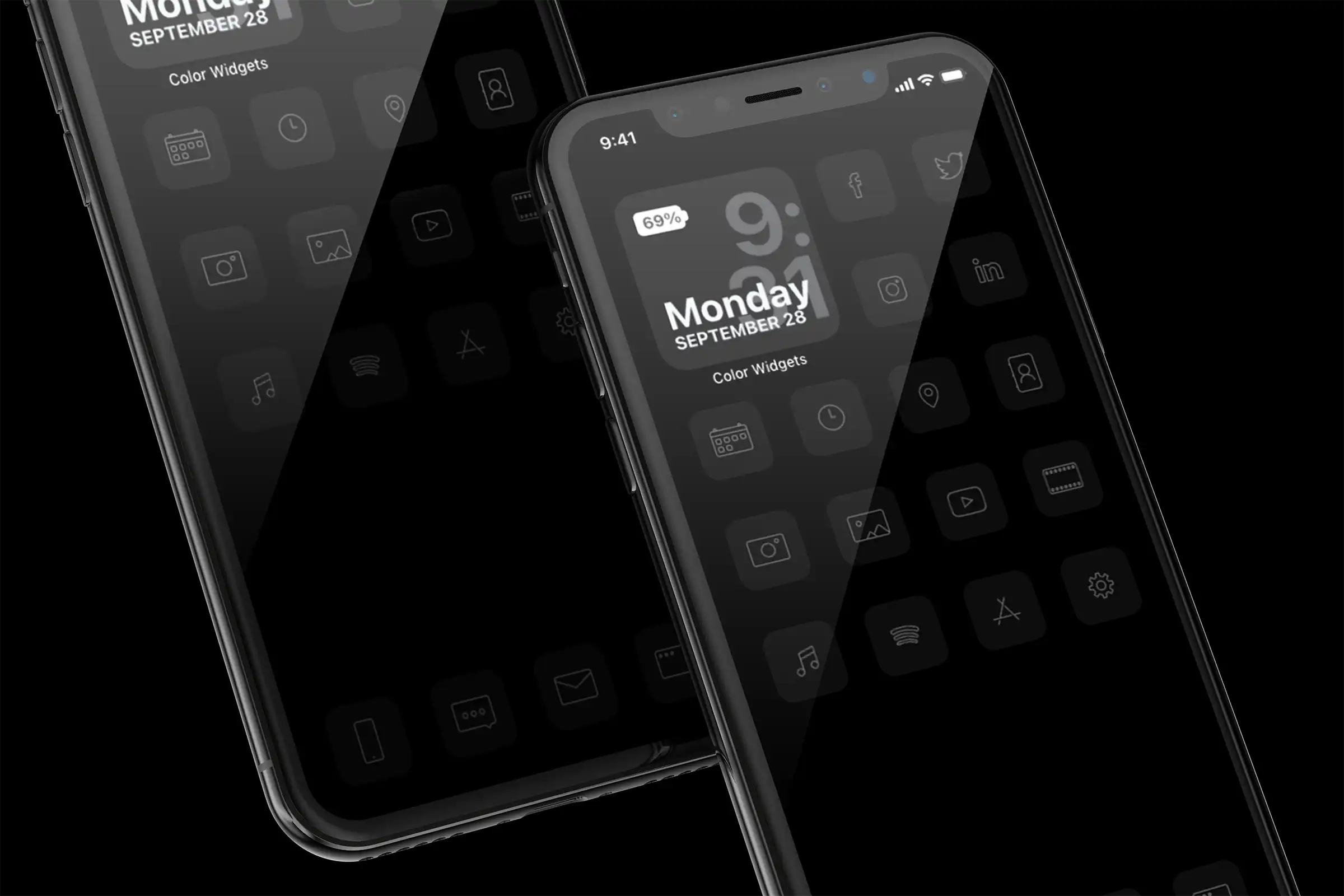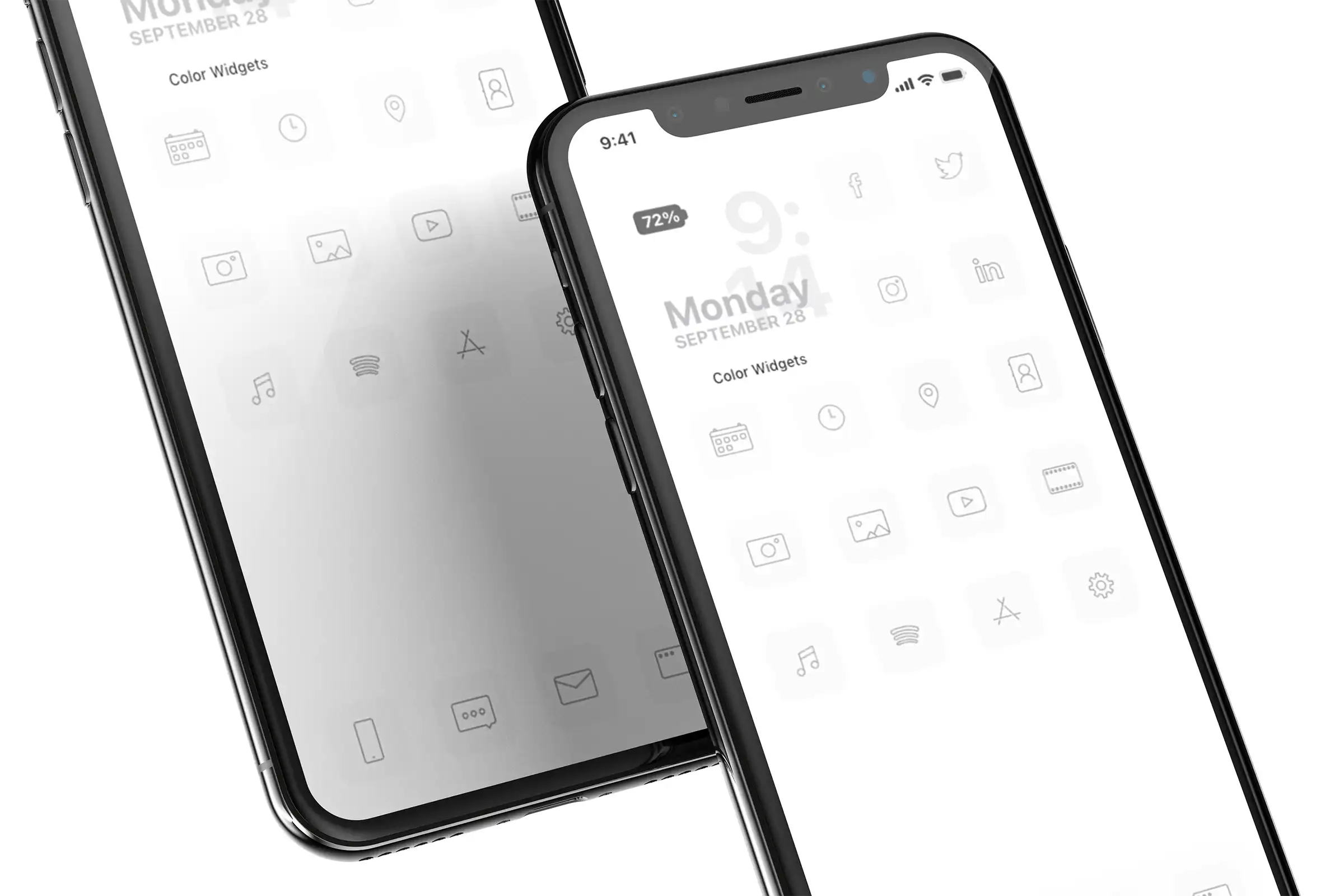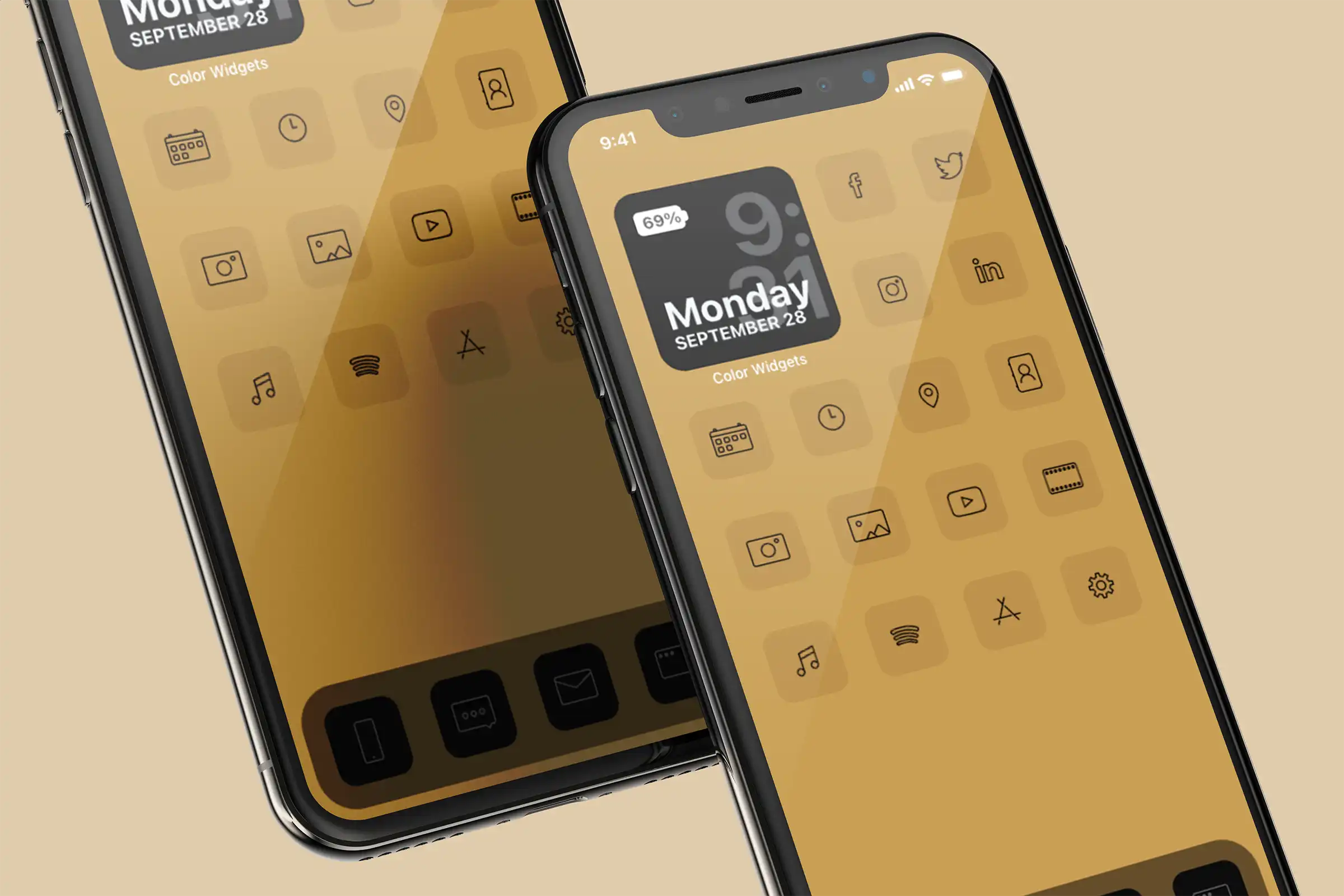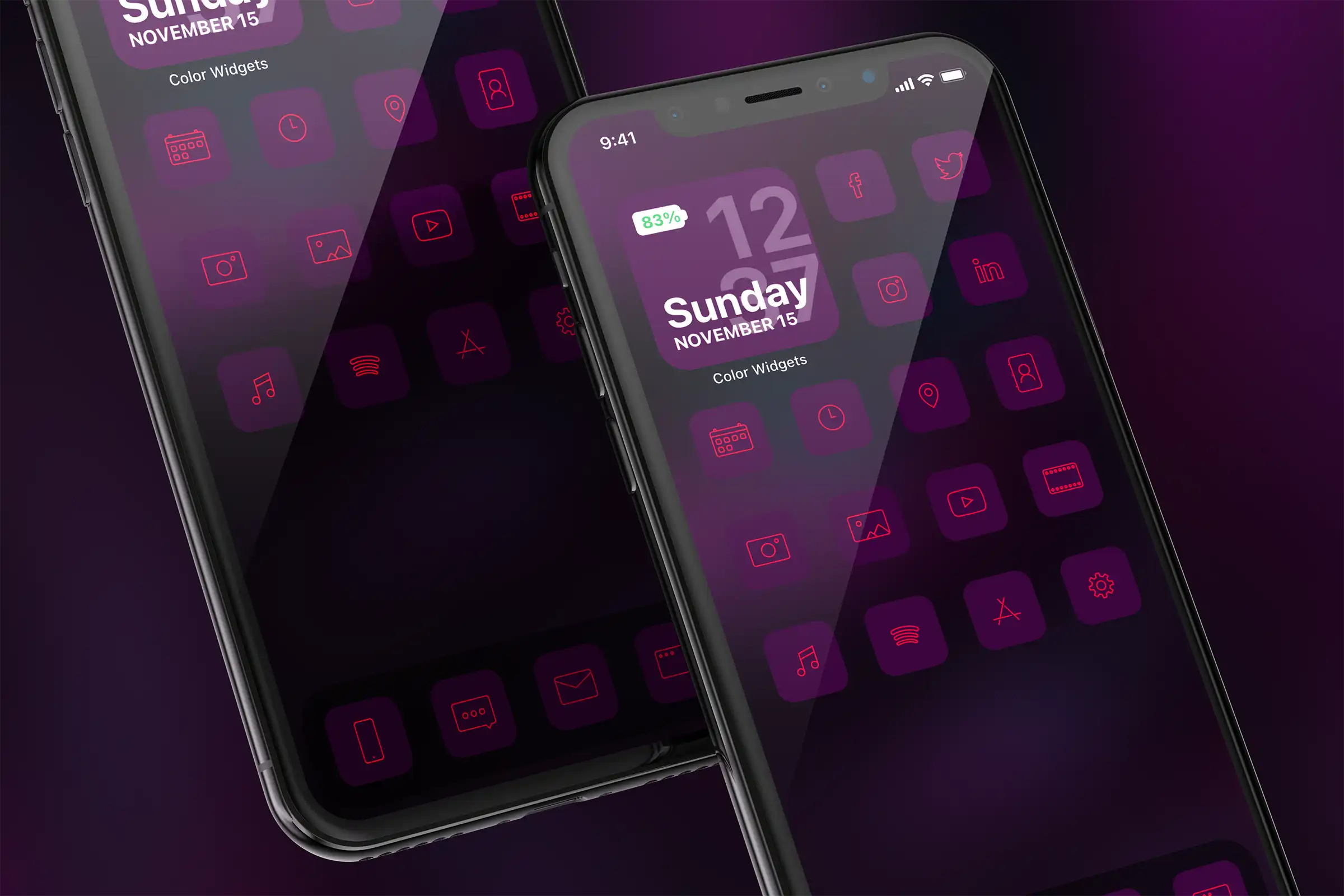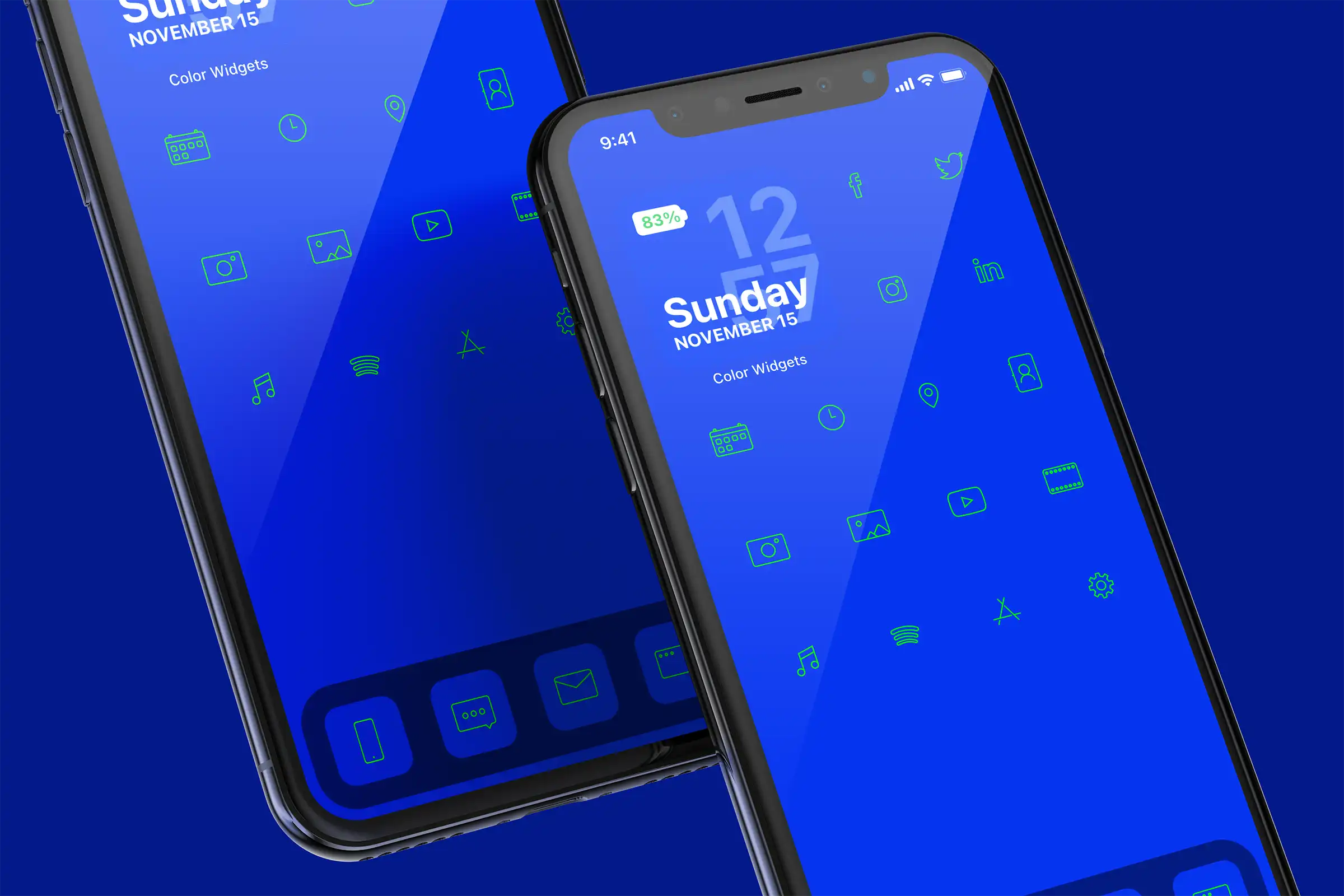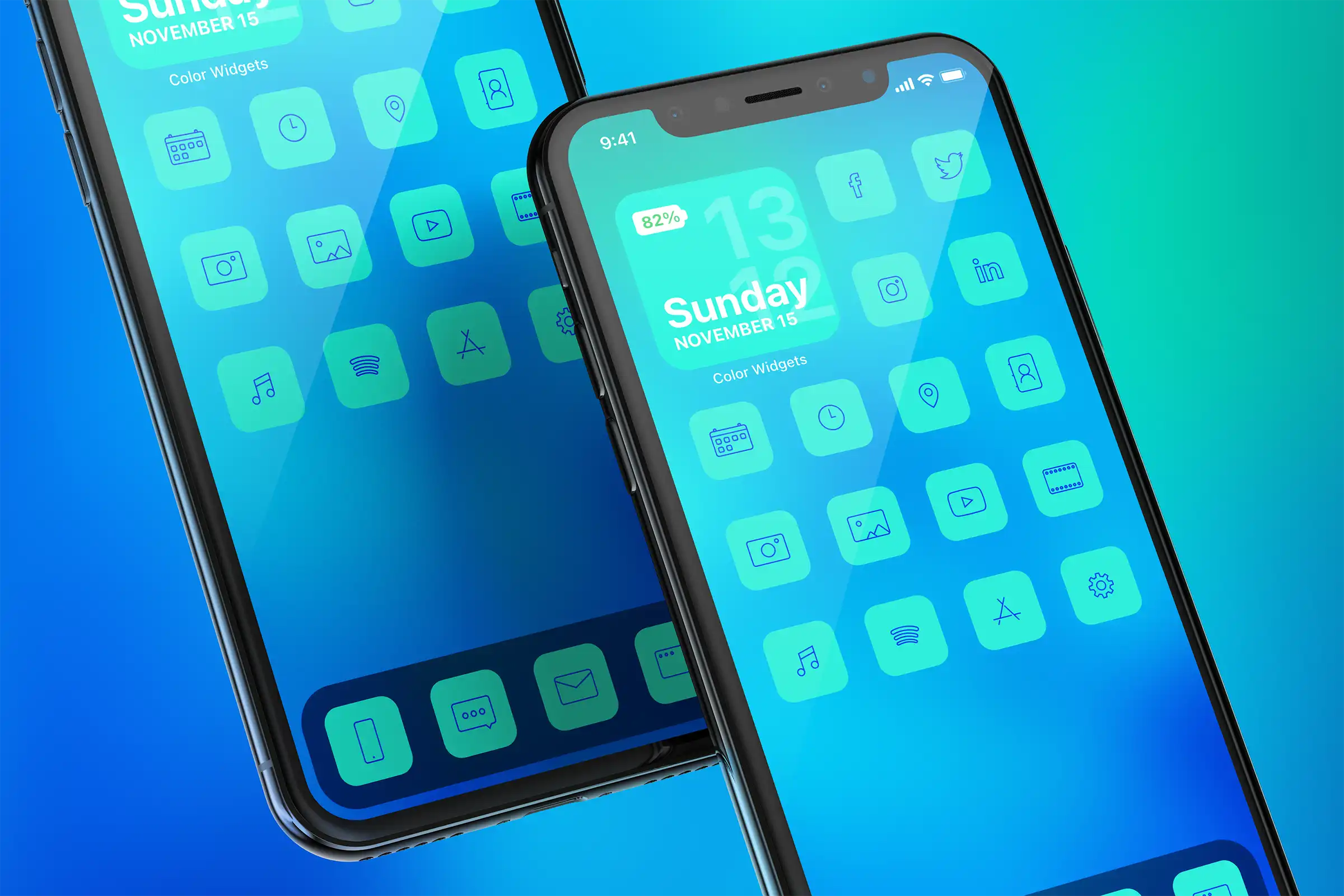 The iPhone theme isn't really changing a lot year by year with each OS update. Feel the same and after iPhone 12, it feels a bit old.
Apple OSX Big Sur update has introduced some skeuomorphism icons again which seems to be the next trend (again) as these things change in cycles.
Black and white app icons are two of the most popular themes and you can get the Calm FREE icons pack with the white icons for free.
The Calm pack was created to improve the UX and have a uniform UI design system. Here are six IO16 themes , +330 icons (more coming soon):
IOS 16 Home Screen Ideas: Mix & Match to push your creativity
Use the six Calm IOS 16 home screen themes to mix and match between each icon set. Using the differentaesthetic app icons create some really interesting and creative visuals.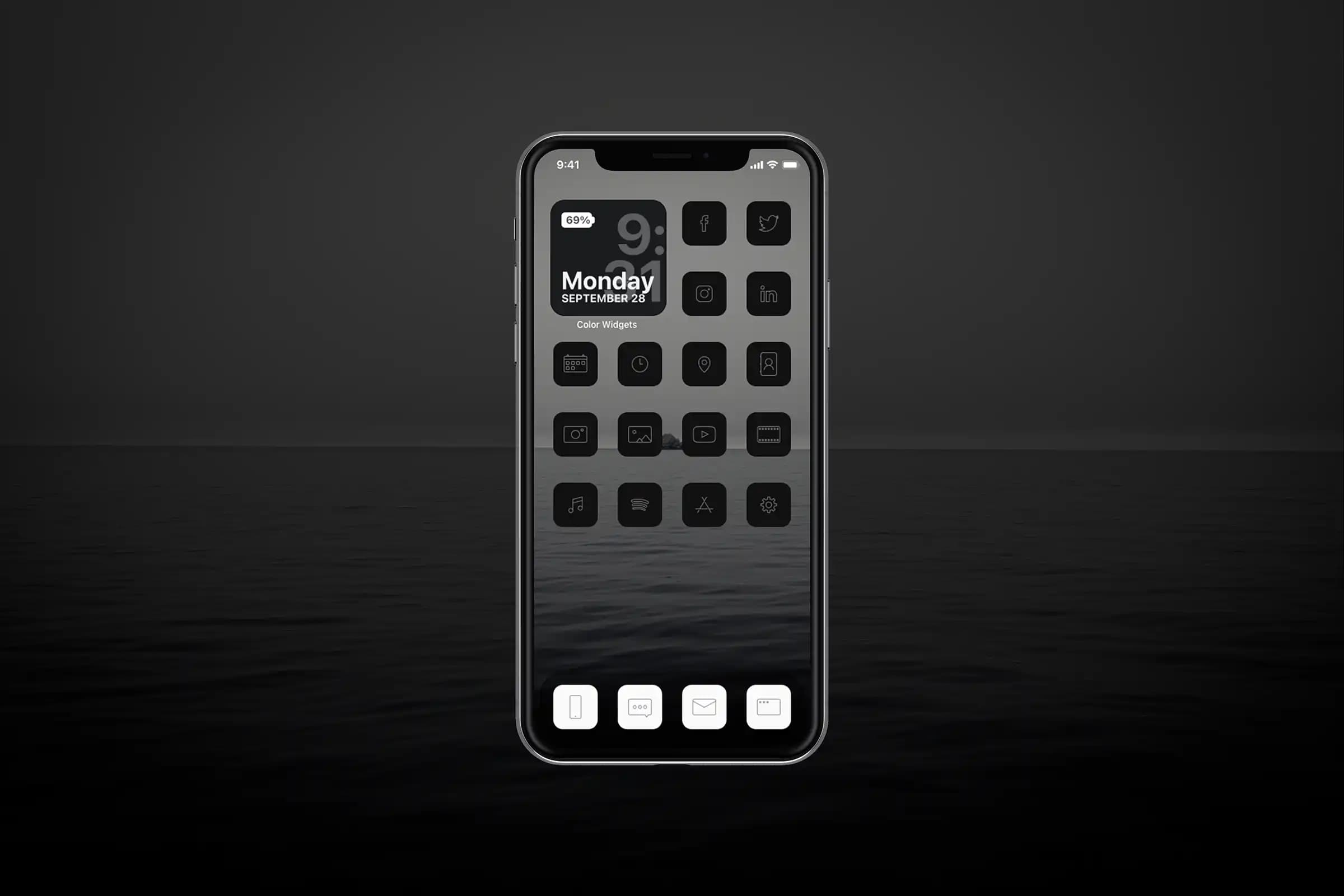 Get Calm Icons
You can mix white icons with black icons and create a pattern or group the apps with it's color.
Below are just some examples of mixing color palletes, background colors or photos etc. for making your ios 16 home screen ideas come to reality.
The Calm iphone black icons theme works really well on every color or background because of the neutral color and contrast so it's a safe place to start your custimization with.
These custom icons can give you many ios 16 home screen ideas and have a design style which makes it all work because of the consistency each was profesionally designed , color, contrast, line weight etc.
For high quality photographs for your background, you can visit Unsplash.com
Calm FREE Vs PRO icons set

FREE IOS16 App Icons Pack
The
Here's what the Free icons pack includes:
30 icons
1 theme icon pack with light themed icons
Wallpapers for various iPhone models
Instructions & tips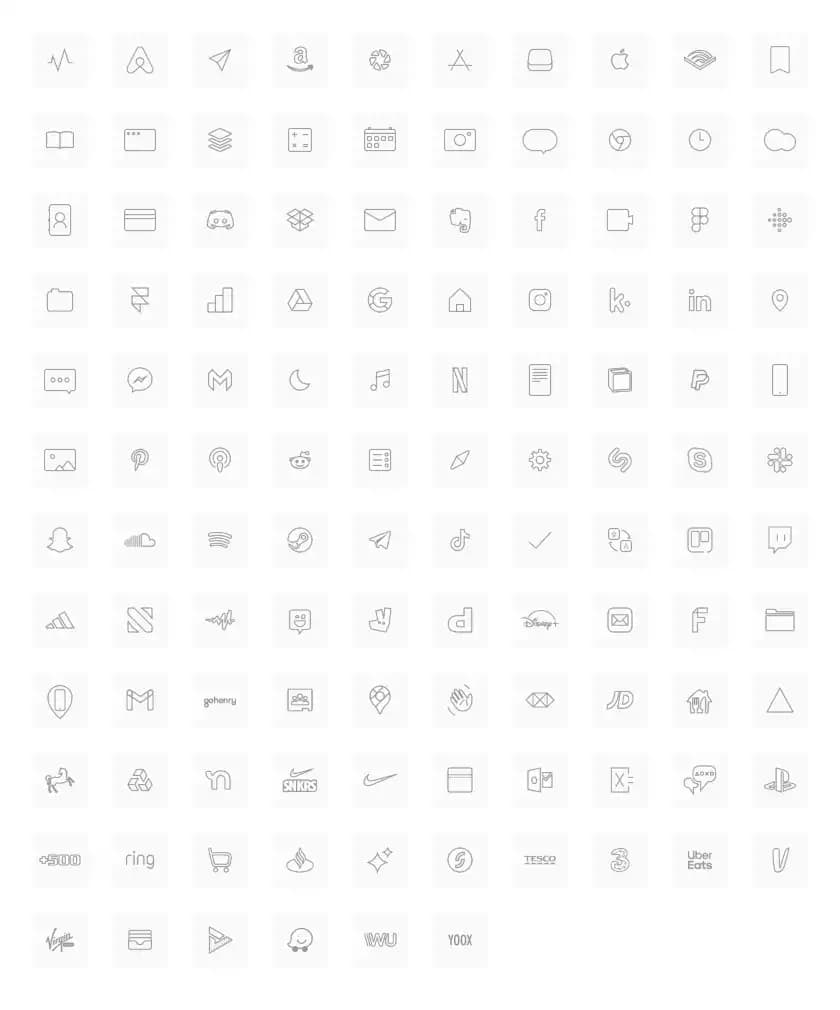 PRO version of the Icons Pack
The
For those that need more icons and want to support the design of new icons and themes. This icon pack includes:
everything from the FREE icon apps pack

+ 5 themes (Dark, Gold, Purple, Blue, Mint)

ability to request new icons

IOS 16 Icons Pack includes all future updates and lifetime access.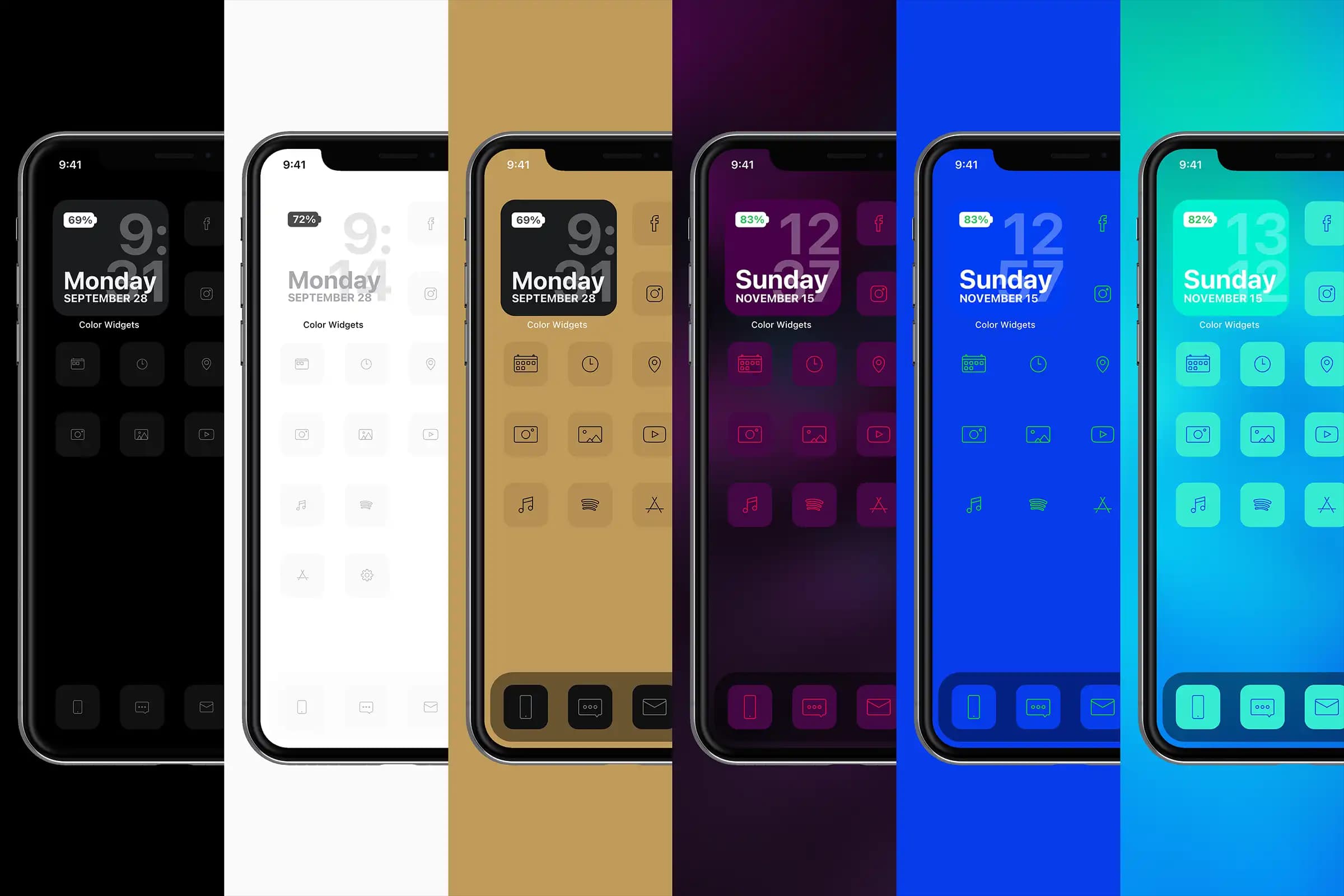 Get Calm icons pack with 6 themes and 330+ icons.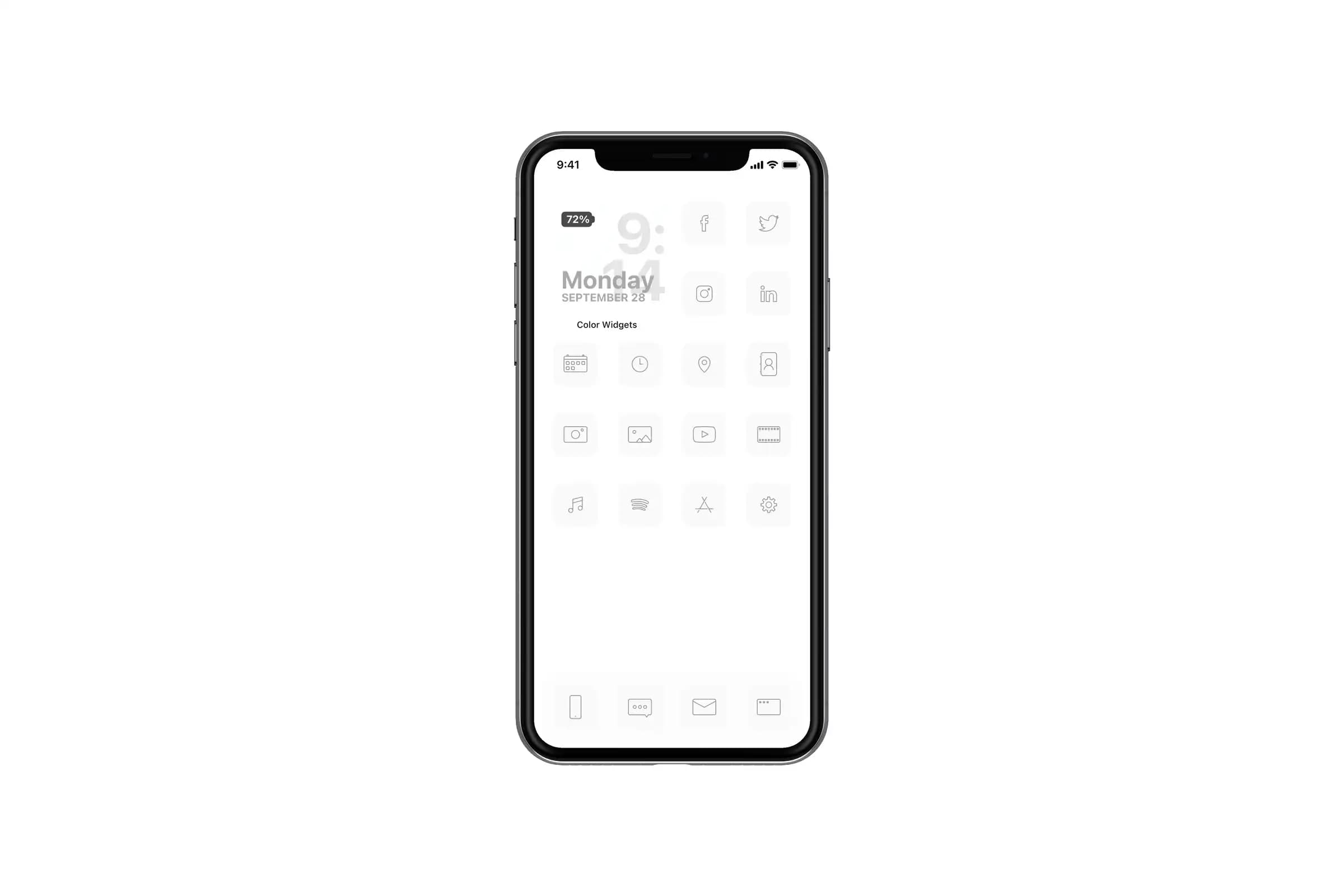 Get Calm Iconss
Calm IOS16 App Icons Pack List
There's currently 330 app icons in the PRO pack.
1password
accuweather
activity
adidas
airbnb
airplane
alarm.com
amazon
aperture
app store
apple news
apple tv
apple
audible
audiomack
bitmoji
blink
bookmark
books
brave
browser
buffer
byu cougars
calculator
calendar
camera
chat
chrome
chromecast
clock
cloud
commbank
contacts
craigslist
credit card
dazn
deliveroo
depop
discord
disney plus
dropbox
email apple
email
evernote
facebook
facetime
farfetch
figma
files apple
find my iphone
firefox
fitbit
folder
foodpanda
framer
gmail
gohenry
google analytics
google assistant
google classroom
google drive
google maps
google
greedy cave
gwent
halifax bank
home
house party
hsbc
iaqualink
ifunny
imdb
instagram
jackson hole
jd sports
jira
just eat
kik
ksl
line
linkedin
lorex home
luisaviaroma
lyft
lyolds bank
maps
merchant
messages
messanger
microsoft outlook
microsoft teams
monzo
moon
music
natwest
netflix
nextdoor
nike snkrs
nike
notes apple
notes
notion
overcast
paypal
phone
photo math
photos
pinterest
playstation messages
playstation
plus500
podcasts
progressive insurance
reddit
reminders
remote desktop mobile
ring
safari
sainsburys
santander bank
settings
shazam_1
shazam
shpock
skype
slack
sleep cycle
smart life
snapchat
snapseed
sonos
soundcloud
spotify
starbucks
stardew valley
starling
steam
teamfight tactics
telegram
tesco groceries
things
three
thronebreaker
tiktok
tinder
todo
translate
trello
twitch
twitter
uber eats
united airlines
viber
videos
vimeo
vinted
virgin mobile
wallet apple
wallet
watch
watched
waze
weather
weed maps
wells fargo
westernunion
whatsapp
wild rift
words with friends
yahoo fantasy
yoox
youtube
zero
zoom
The goal of making this icon pack was to lover the Screen Time by only limited to one screen as well as disabling all notifications besides phone and messages. You can always experiment with your settings but this concept gets best results.
Maybe a more visually calm iPhone will help you get on with your busy daily tasks?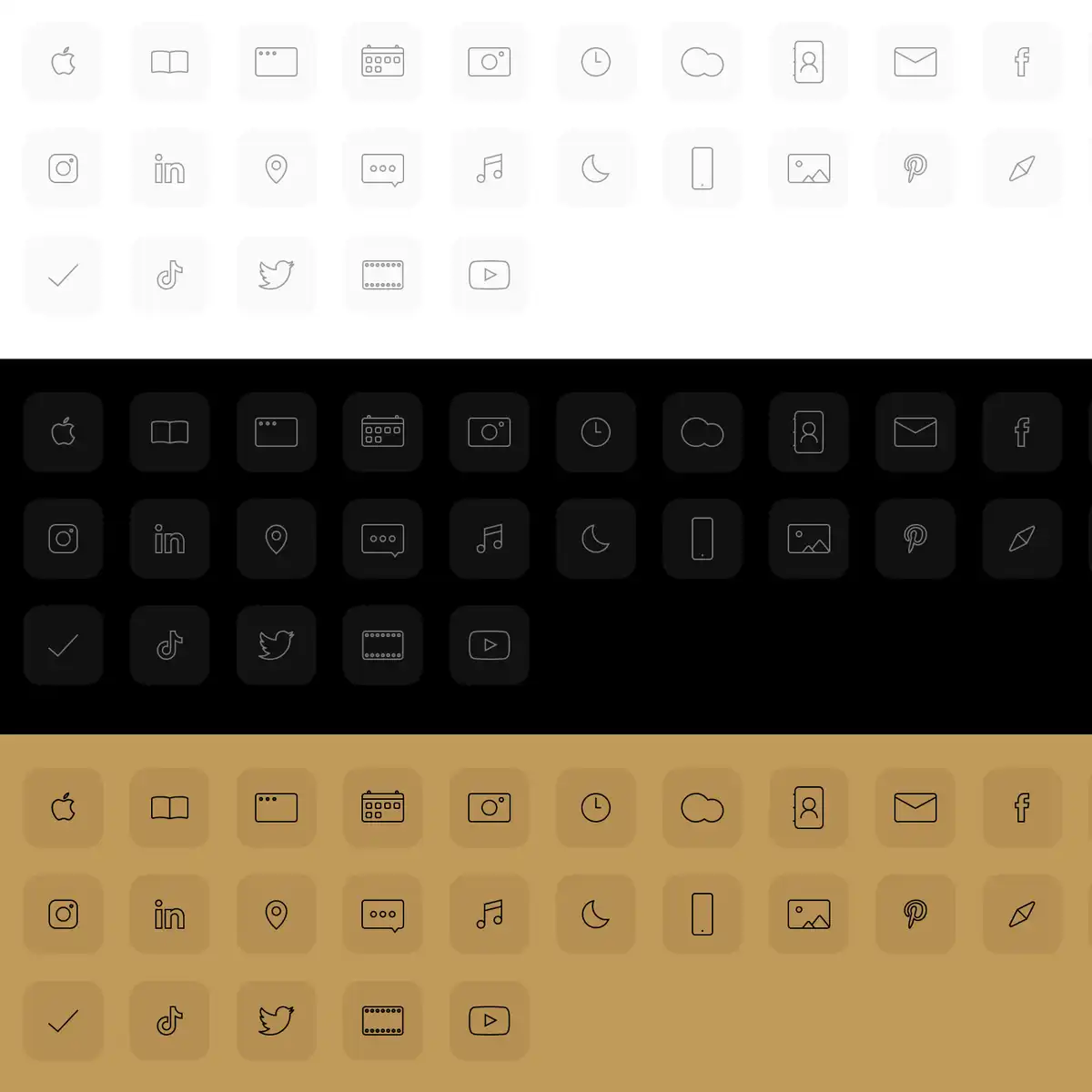 This IOS 16 App Icons pack works for iPhone 6 and above with IOS16 installed.
More icons will be added in the future.
Get a new iPhone experience without a new iPhone by customizing your home screen with icons
Turn your home screen into a unified design system of app icons that is functional and clean.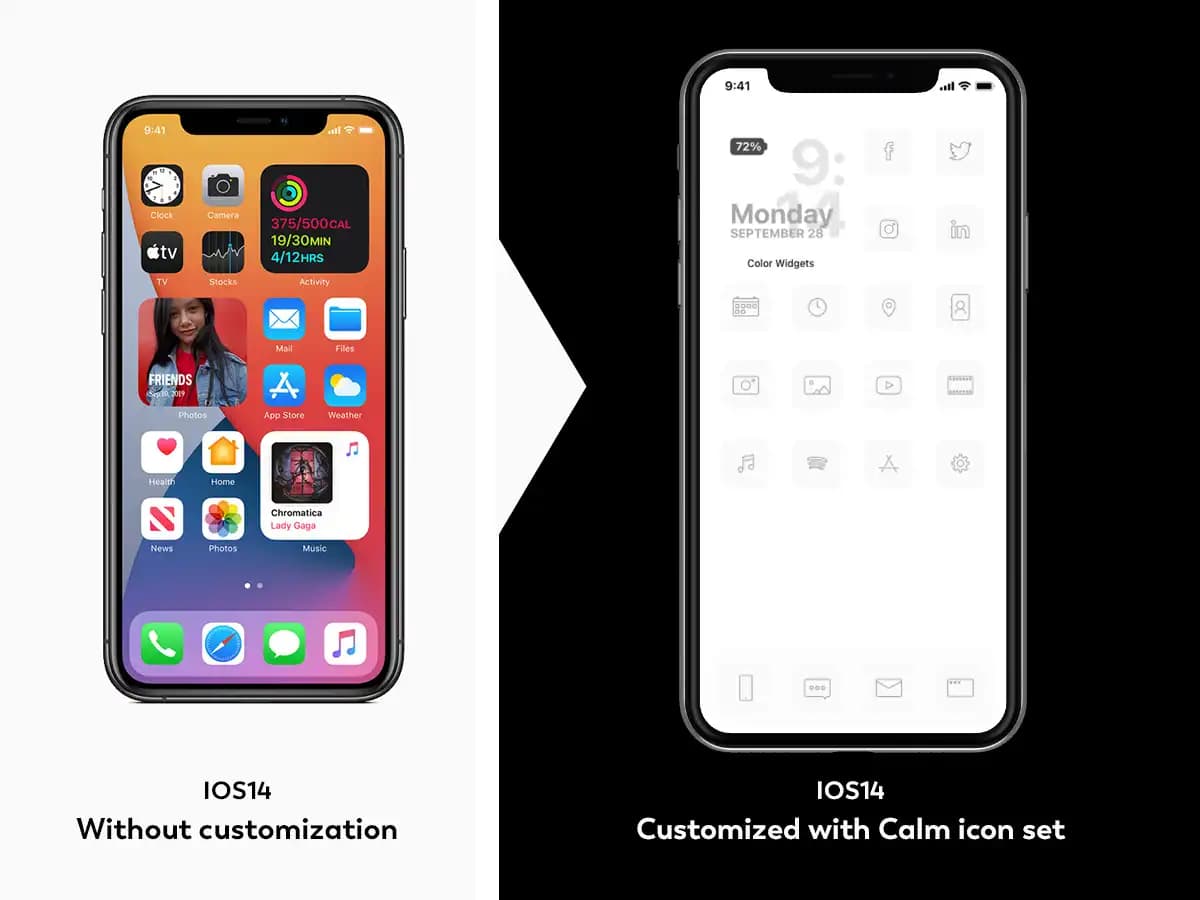 What's included in the Calm IOS 16 app icons set
✅

 Light/White (FREE), Dark/Black, Gold, Blue, Purple, Mint ios 16 themes

✅

 Hi-RES free IOS icons in PNG format

✅

 Home screen wallpapers in different screen sizes

✅

 Instructions included

✅

Option to request new icons for free

✅

By "purchasing" the product, you get all future icon updates and lifetime access.
Goal and benefits of using the Icon set
To create a unique user experience & user interface, the design has been improved to achieve these benefits:
Lowers screen clutter
Lowers fatigue
Fights high screen time
The custom theme helped me to reduce my Screen Time by -38% without the loss of being productive.
How to change app icons on my iPhone?
Here is a step-by-step tutorial on how to change app icons to customize your home screen.
The process is quite long but once you add 1 or two, its going to become really fast to change these icons and your homescreen will look great after.
Upload the icon set to your iCloud account for easier adding of the icons

Open the Shortcuts App on you iPhone

Tap the + in the top right corner to add a new Shortcut

Tap the Add Action button

Choose the Open App option or search for it if you can't see it on the screen

Choose the "App" button next to Open

Search for the app you want to open

Here's how your shortcut will look after you select the app you want to open.

Tap the blue circle icon at the top

Select "Add to Home Screen"

Tap the second small icon below

Select the Choose File option

Browse or search for the uploaded icon in your iCloud folders

Select the icon of your app.

You can name the shortcut as the app name

To have an even cleaner screen, you can delete the icon name by tapping on the X.

This will only show the icon on the home screen without it's name below.

Finally click the "Add" on top right of the screen.

The new icon will be displayed on your home screen.

Repeat all the steps for each icon.
IPhone Wallpapers for IOS 16
The downloaded files also include the iPhone homescreen wallpapers for a variety of models in all 3 color themes.
So don't forget to add these white, black, gold, purple, blue, red, and mint IOS 16 wallpapers as well.
You cal also use some lighter or darker photographs from unsplash and add black and white app icons in front to get some unique style you like. Let me know your best IOS 16 Home Screen Ideas, I'd would love to see them.
Icon Pack tips
You can also mix IOS 16 App Icons from any theme and match the light, dark and gold icons with whatever iPhone home screen wallpapers suits you best. The increases the customization options so you can really be creative and personalize your home screen as you want.
You could also use black icons for IOS iPhone with the top grid and white icons for the bottom shortcuts bar.
If you're one of those people who enjoy a really clean and consistent aesthetic, you will love the simple theme.
I've been running some tests and experiments and lowered my Screen time by -38%. Here's couple of things that helped:
Use just one theme (don't mix the icons)
Use only the apps you're using the most on the front. See Screen time and usage to see what these apps are.
Use only one screen and hide all other icons (IOS 16 allows you to do that). You won't be able to swipe right to get more icons
Use the search option to find apps you don't use very often
Disable all notifications (this one was the game changer) but keep the notifications for phone, messaging etc.
As all notifications are off, you don't need to keep your phone in the silent mode
One thing to note is that the icons won't have notification numbers on them. But this is great as you won't be looking at the phone constantly.
What widgets apps should you use with this IOS16 App Icons pack?
Color Widgets app (free and paid)
Color Widgets allows you add trendy widgets straight to your home screen. Choose from pre-made widget templates or make your own. Color Widgets is the best choice for customizing and styling your iPhone home screen.
It complements the IOS16 App Icons perfectly as you can choose colors for backgrounds of widgets. Use black or white for the Calm app icons theme.
There are hundreds of design choices to build the widget that best suits you.
With Color Widgets, you can freely modify the font widgets, the color theme, or even the background color.
Get your favorite widget up and running in a few seconds.
Color Widgets work on all iOS / iPadOS devices, the only prerequisite is that they run iOS 16 +.
Widgetsmith app (free and paid)
Create custom widgets and personalize your home screen and is very simple to use. It offers a wide collection of very customizable widgets for date, weather, astronomy, timezone converter, calendar. Each can be customized with options to fit your desired function and appearance like size and color.
Most people download this app for customizable pictures and photos in their widgets and different colors and styles for your personality to shine on your device.
You can also dynamically schedule the appearance of a widget. Each widget like the calendar can open the app via a tap on the screen which is smart as the widget becomes very functional and not just visual or aesthetically pleasing.
Widgetsmith also integrates with Apple Health and includes an optional premium app subscription.
Get free apps Widgetsmith from the App store
My Widgets app (free and paid)
Add custom widgets for specific purposes with access to your own information and actions for your different needs.
For example, you can add a calendar which shows the current month and busy days.
Your favourite photos of your cherished family and friends can be added to widgets of different sizes.
You can include a horoscope, a daytime picture, audio notes, world clocks, and more …
This application includes free and paid options and also works well with the IOS16 App Icons.
Best IOS 16 widgets list of popular iPhone apps
To get a great home screen it's really important to know how to use ios 16 widgets and what options are out there.
The ones above are perfect to get the style and color similar to your icon pack, but this list of best ios 16 widgets could improve the user experience of your smartphone as well.
IOS 16 app widgets list
Ambiient
American Airlines
Brief
Carrot Weather
CBS News
ChibiStudio
Coinbase
Fantastical
Fitbod
Flighty
Google
Grocery
Headspace
Health Auto Export
Heart Analyzer
Kontax Cam
Liftr
Longplay
Marvis Pro
MusicHarbor
My Macros+
My Meal Plan
Neon
OpenTable
Paws Almanac
Paws Week
Rachio
Siri Suggestions
SongKit
Spark Mail
Spotify widget IOS 16
Stats for Tesla
Step It Up
Sticky Widgets
The Athletic
The Weather Channel
Things
Timerange
Twitch
Tyme 3
Unread
Weather Radar Widget
Widgetize
Widgetsmith