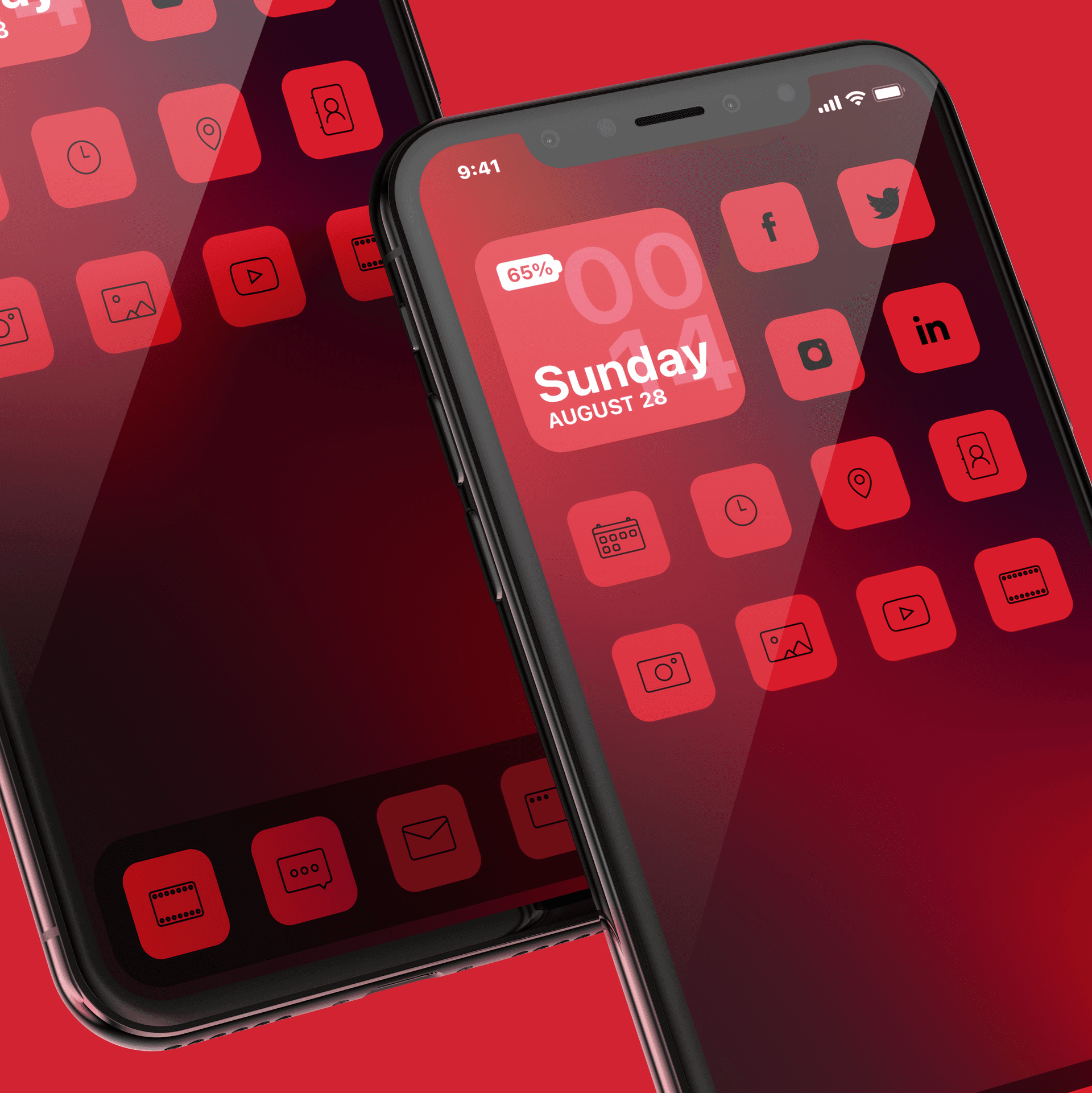 380+ Calm Red App IOS Icons
for iPhone & iPad
Enhance the appearance of your iPhone home screen with the striking Calm Red IOS App Icons. This collection includes over 380 specially crafted icons in various shades of red, ranging from bold and intense to soft and delicate.
App Icons
Normal & Seamless variation in both High & Low Contrast
381
$5
Buy Now
100% MONEY-BACK GUARANTEE
14 Days to try. Not for you? Get a full refund.
Are you tired of the same old, boring home screen on your iPhone? Do you want to add something new and exciting that will set your phone apart from everyone else's? Then why not try personalizing your homescreen with red app icons! With just a few simple steps, you can quickly transform the look of your device. Not only will it be aesthetically pleasing, but it'll also give you an individualized touch that makes using your smartphone even more enjoyable.
Personalizing your homescreen with red app icons is easier than ever before. All it takes is downloading one of the many available color-changing apps that are available in the App Store. In addition to allowing you to easily choose different colors for each icon, these apps also provide other customization options such as size and shape adjustments so that all of your icons look uniform and attractive. Best of all, they're all free or low cost - perfect for those who don't have much money to spare.
So if you're ready to take control over how your device looks and stands out from the crowd, then customizing your iPhone homescreen with red app icons is definitely worth considering! It's a fun way to express yourself while giving off a modern vibe at the same time. So let's get started - read on to find out exactly what you need to do for a successful transformation!
Choosing Apps For Red Icons
It's time to personalise your iPhone homescreen with red app icons! With a few simple steps, you can create an eye-catching display that captures the essence of your personality. From picking the right apps for red icon themes to customising wallpapers and colourful designs, here are some tips for creating a unique home screen.
When it comes to choosing the perfect apps for a red icon theme, look beyond just aesthetics and consider functionality too. You want apps that provide easy navigation and make day-to-day tasks easier. Think about which ones you use most often and find something that looks great while being useful. Once you have selected these essential apps, you can start adding colour by selecting additional apps with bright red icons – such as music streaming services or lifestyle blogs – to complete your home screen design. This way, you get all the features you need plus a beautiful aesthetic touch!
With your selection of apps in place, next up is personalising the wallpaper on your iPhone homescreen. Here you have lots of options – from vibrant patterns to monochromatic gradients – so choose something that reflects your style and speaks to who you are. Make sure it complements the colours of your chosen app icons so everything ties together nicely, then sit back and admire how pretty (and organised!) it all looks!
Downloading Themes And Wallpapers
Have you ever wanted to customise your iPhone homescreen with a unique theme and wallpapers? Well, it's possible without needing any technical knowledge. By downloading themes from the App Store or other sources, you can easily personalise your apps and icons with red app icons for a more dynamic look.
The truth is that there are plenty of options when it comes to finding the right wallpaper and theme for your phone. You can find free as well as paid versions in the App Store, all tailored to fit the size of your device's display. Additionally, many websites offer users an array of wallpapers which they can download directly onto their phones. Not only do these sites provide designs specifically suited to iPhones but they also often have detailed instructions on how to install them correctly.
So why not take advantage of this opportunity and make your phone stand out by giving it a personalised touch! With just a few clicks, you'll be able to completely transform the look of your screen into something special that reflects who you are as an individual.
Customising Icons With Third-Party Apps
Now that your iPhone's homescreen has been adorned with a theme and wallpaper, it's time to customise the icons. With third-party apps, you can explore an array of creative options for personalising each app icon on your phone. Here are some tips for making this task easier:
Utilize an icon maker - Use a tool like Shape Icon Maker or SliconX to create unique icons from scratch. The editor is easy to use and provides you with a variety of shapes and templates so you can quickly make beautiful designs.
Explore icon sets - There are many websites where you can find pre-made icon sets which will help give your home screen a more cohesive look. Sites like Icons8 allow users to browse through thousands of free and premium icons as well as customize them according to their own preferences.
Hire an icon designer – If you want something truly one-of-a-kind, consider hiring someone who specializes in designing app icons. Freelance designers offer competitive rates and often provide clients with multiple design variations to choose from. No matter what route you take when customizing your iOS device's icons, keep in mind that there are endless possibilities! Have fun experimenting until you come up with the perfect look for your phone's home screen.
Conclusion
If you're looking to make your iPhone homescreen stand out, then red app icons are the perfect way to do it. With a few simple steps, you can personalise your device and create an eye-catching display.
The best part is that there are plenty of ways to customise your phone without having to download any third-party apps. You can find apps with readymade red icon options or even customize existing icons just by changing their color settings in the App Store. And if you want to take things one step further, you can also change the font of your app labels for extra customization.
Finally, be sure to choose a suitable wallpaper for your red app icons; something that complements rather than clashes with them! With these tips in hand, you'll be able to transform your iPhone into a unique work of art - all thanks to those bright and bold red app icons!