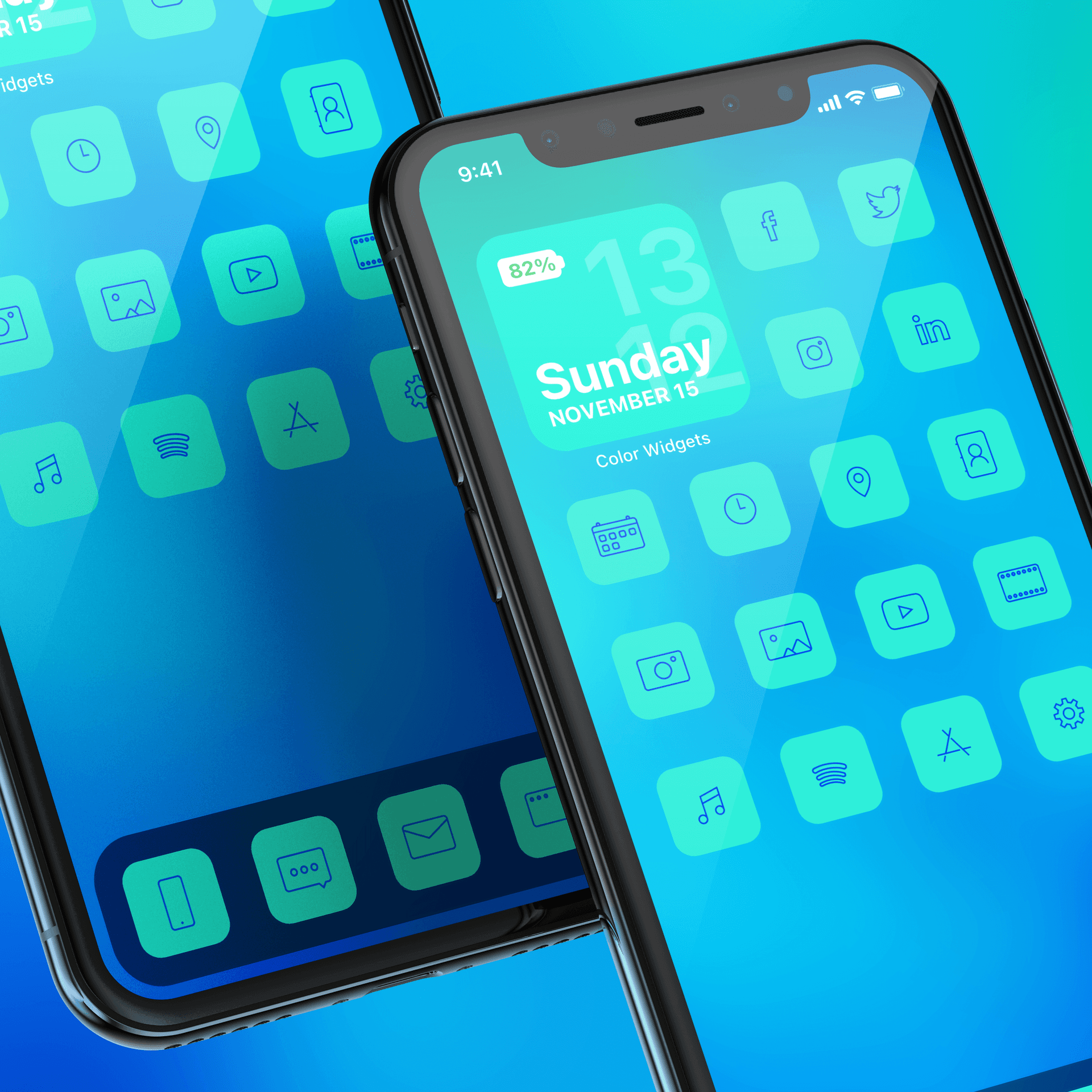 380+ Calm Mint IOS App Icons
for iPhone & iPad
Add a touch of elegance to your iPhone home screen with the Calm Mint IOS App Icons. With a minimalist yet refined design, these icons are perfect for anyone who wants a clean and modern look for their device.
App Icons
Normal & Seamless variation in both High & Low Contrast
381
$5
Buy Now
100% MONEY-BACK GUARANTEE
14 Days to try. Not for you? Get a full refund.
Are you looking for a way to make your iPhone home screen stand out? If so, then look no further - the Mint app has revolutionized how we personalize our phones. With its unique design and customizable options, it's never been easier to create an aesthetically pleasing home screen that expresses who you are. So let's dive in and explore exactly why using the Mint app is the perfect way to bring your phone to life!
The Mint app allows users to easily customize their iPhones with stylish icons which can be chosen from a wide range of designs. Whether you're into minimalistic vibes or something more eclectic, there are endless possibilities when it comes to creating a completely unique and personalized iPhone home screen. You also have the freedom to change up your designs whenever you feel like it for an ever-evolving aesthetic.
So forget about boring preloaded apps; take control of your digital space and give yourself permission to get creative with your own customised iPhone home screen! With help from the Mint app, you can now express yourself through technology in ways that were previously impossible. Read on for some tips and tricks on making the most out of this amazing tool.
Design Considerations
When it comes to personalizing your iPhone home screen, you want something that reflects your style, while also ensuring compatibility with the device. This means considering a range of design elements like color palette, icon style, graphic elements and font choices. Each of these can help bring out the unique look and feel of your chosen app icons.
The right choice of colors speaks volumes in terms of creating an overall aesthetic that's both eye-catching and easy on the eyes. For example, if you're looking for a refreshing twist on traditional green hues, then Mint is definitely worth exploring. Its pastel tones are perfect for adding some lightness to the home screen without compromising its clarity or readability. Similarly, opting for a flat icon style gives off a contemporary vibe that makes it easier to find apps at a glance. Finally, integrating minimalistic graphic elements into this mix helps create visual interest and adds texture to your layout - all without overwhelming the user experience.
In short, there are plenty of ways to customize your iPhone home screen using Mint app icons – from selecting a suitable color palette to choosing an appropriate icon style and incorporating subtle graphic elements. With careful consideration given towards each design element, you'll be able to craft an aesthetically pleasing display that offers an optimal level of usability with every swipe across the page.
Finding The Right Icons
Creating the perfect home screen for your iPhone is a great way to show off your individual style via an array of mint app icons. Take, for example, Sarah from San Francisco who wanted her home screen to feature vibrant and fun designs that matched her bubbly personality. She searched through hundreds of potential options before finally finding the perfect set of icons for her phone.
Here are some tips on how you can create a unique look with these modern app icons:
Look for collections that offer varied color palettes so that you can mix and match different hues (i.e. blues, greens) depending on what suits your design concept best.
Don't be afraid to experiment - try out various layouts or patterns in order to achieve the most visually appealing result possible! You could even use apps like Adobe Spark Post which allow users to easily customize their own icon designs in order to create something completely unique and personalized.
When picking out specific themes or graphics, make sure they all complement each other while still maintaining a sense of cohesion throughout the entire home screen customization project.
With mint app icons, it's easy to give your iPhone a personalised touch without spending too much time searching for the right ones. Plus, having an eye catching yet sophisticated theme will help distinguish your device from everyone else's; providing you with a one-of-a kind experience every single time you unlock it! So don't wait any longer – start customizing today!
Customizing Your Home Screen
Now that you've chosen the perfect icons for your iphone, it's time to personalize your home screen. There are lots of ways to customize your phone and make it your own - but if you want a unique look with an element of surprise, Mint App Icons is the way to go! With this app, you can completely transform the appearance of your device by replacing all existing icons with mint-colored versions. Not only do they add vibrancy to the overall aesthetic; they also give each page its own distinct personality. Plus, these icons come in several different sizes so that no matter what type of iPhone you have, there will be something to suit every user's needs. So don't waste any more time – start customizing your iPhone home screen today with Mint App Icons!
Conclusion
Personalizing your iPhone home screen with mint app icons is the perfect way to make it truly yours. For just a small price, you can give your device a completely new look and feel without having to worry about any risks associated with downloading additional software. With the ability to move the icons around and customize them however you like, this provides an opportunity for users to express themselves in ways that weren't possible before. Furthermore, if you don't want to bother with apps or downloads, there are still plenty of options available for personalization; from custom wallpapers and fonts to color themes and more.
In conclusion, personalizing your iPhone home screen is not only affordable but also incredibly simple. Whether you choose to use mint app icons or decide on something else entirely, the possibilities are seemingly endless. So why wait? Make your phone as unique as you are-- don't be afraid to show off your creative side! As technology becomes increasingly advanced and integrated into our everyday lives, it's important we take some time out of our day-to-day routine and put ourselves first by customizing what we see every single time we turn on our devices.