Published on:
iPhone icons: How to create a beautiful iPhone aesthetic with a custom icons
Authors

Name

Twitter
Table of Contents
How do I change the look of my icon for my IOS 16 iPhone app easily?
In my earlier article, I shared how you can customize iPhone widgets to make your home screen attractive and productive too. Today I am going to share, how do I change the look of my icon for my iPhone apps easily?
The quick answer is with icons for apps.
I prefer to use Calm App Icons Pack to customize iPhone app icons. The best part about when Calm App Icons, is that It's just not about customizing app icons but also themes and wallpapers.
It is total fun to use different combinations of themes, wallpapers, app icons, and photo libraries.
But you need to be running the latest version of ios.
Use the Calm app icons pack for IOS to make a custom home screen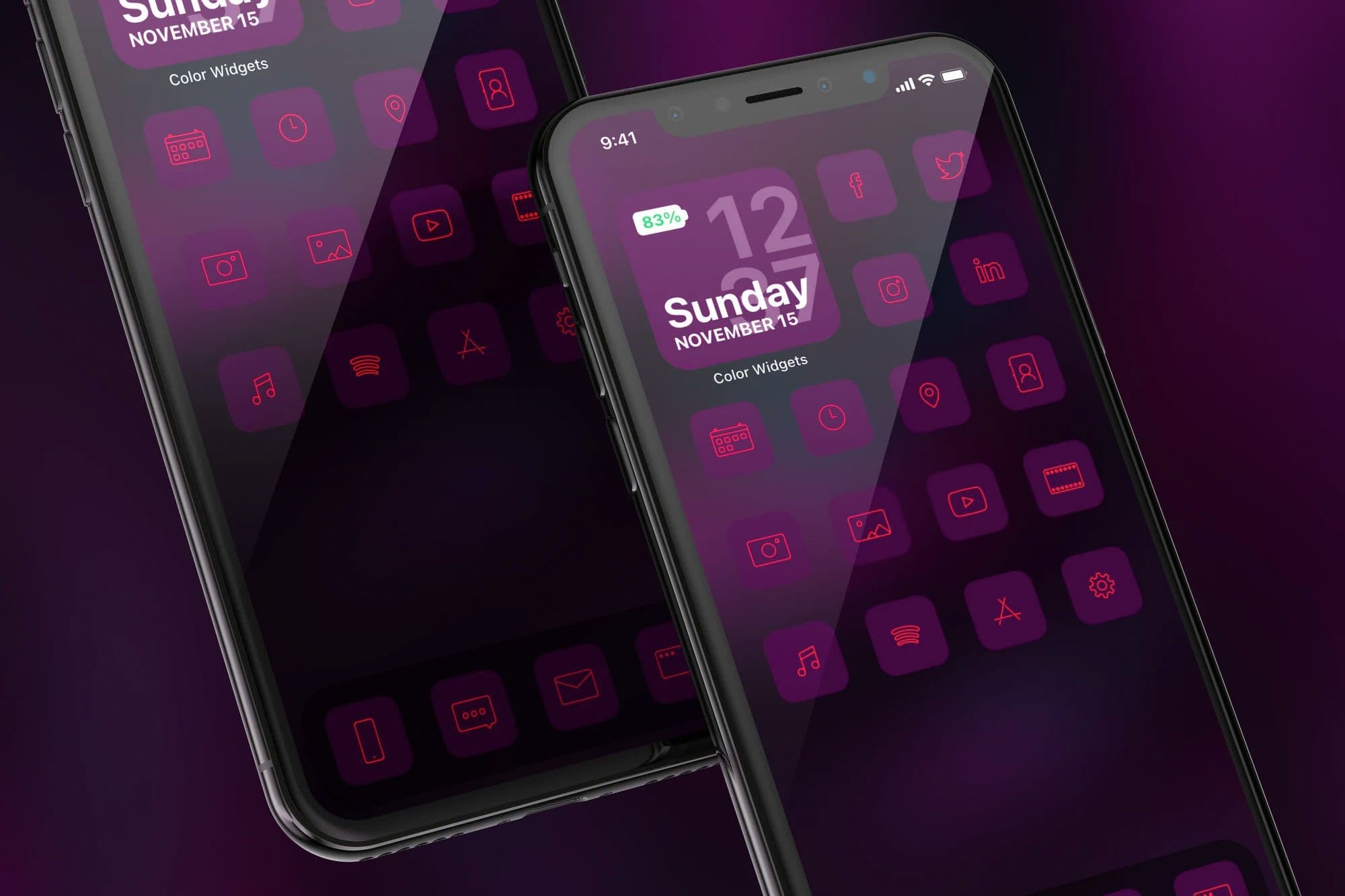 Get Calm app icons
Whether you are looking for an elegant iPhone theme or just a black and white background, the app icon pack provides you a wide range of iPhone aesthetic app icons. The experts from the Calm App Icon Pack offer more than 130 icons and 6 theme colors: black, white, purple, red, blue, mint and gold.
That's not all, you can also request personalized and customized icons from the creators. With so many icon sets, themes and wallpapers, it's amazing to exhibit my iPhone IOS 16 home screen on social networking websites.
How do I customize my iPhone icons?
You can also customize icons on IOS 16 devices via Shortcuts app, which is preinstalled on IOS 16 and higher versions. Shortcuts app provides you the options to create customized icons for the iPhone home screen. Shortcuts app don't open the actual app first, instead, it opens the shortcut app first.
How to customize your iPhone with app icons pack and the Shortcuts app?
To customize your iPhone app icons, download Calm App Icon Set and follow a few easy steps:
Once you have downloaded Calm App Icon, upload your theme or icon set to iCloud or Dropbox from where you can access it easily from your iPhone.
Launch ios "Shortcuts App" on your iPhone.
Click on "Add Action" button.
Now select the "Open App" action via looking in the Search bar.
Click "Choose Button" and select the app that you want to customize.
You will notice three dots in the upper right corner. Tap on it and now it will give you the option to give a new name to your shortcuts app.
Click on "Link to Home Screen" to add shortcuts to your iPhone home screen. Tap on the small generic icon ( current icon)
Next, click on the "Choose File" option and now search for the required icon from the uploaded CAIP either in the iCloud or Dropbox folder.
Once you selected the image/ icon, tap Add.
Now you can either rename the icon or remove the name altogether by clicking the "X" button.
A pop-up will appear and Voila! You are done. Your new icon shortcut is visible on your home screen.
Basic principles of icon design for IOS
Icon design is the process of creating a graphic symbol for an object or action.
An icon can be created to represent many different things, from a website to a computer program.
This icon pack has been custom designed with the best practices of icon design, including consistency, legibility and clarity. The principles of effective icon design have been discussed at length by John Hicks in his book "The Icon Handbook."
Show off your aesthetic with custom ios app icon pack, widgets and backgrounds
With Calm App Icons, you can have fun with different icons and various IOS 16 iPhone widgets to make the iPhone home screen give an aesthetic look. I will surely share the next article about how to change the colors of app icons or get attractive black and white icons with a few creative ideas. You can also use black and white photos as your wallpaper which work great with the black icons pack
Meanwhile, click on the button download Calm Icons set to let you enjoy with different app icon sets and themes for IOS 16 iPhone.
Get Calm App Icons