Published on:
Icons for apps: Download beautiful app icons to customize your home screen or menu
Authors

Name

Twitter
Here's something to do instead of scrolling Instagram today and it won't take you away from your phone. Apple released its IOS 16 in September 2020 and with it they gave iPhone users built in creative freedom for the first time.
This gave Apple consumers a little more ammo in the classic battle between Android and Apple app battle.
The argument that has pervaded every conversation about which company produces better products has always included the idea that Android phones allow for more freedom in their interface while iPhones have had a fixed grid setting.
Table of Contents
Each app icon is now customizable
IOS 16 allows iPhone users to change and edit their app icons and it is making many Apple fans happy. Take a look on Twitter to see how IOS has inspired creatives to take action.
You can now switch up icons manually with JPG, PNG or SVG images (downloadable format) or with an app you can download on the App Store.
Where can I download iPhone app icons?
Take the Calm app icon pack. This is a product that gives you six color options to choose from. The color coordinates with its intent. Each day of the week could be different with its black, white, tan, purple, blue, and green themes.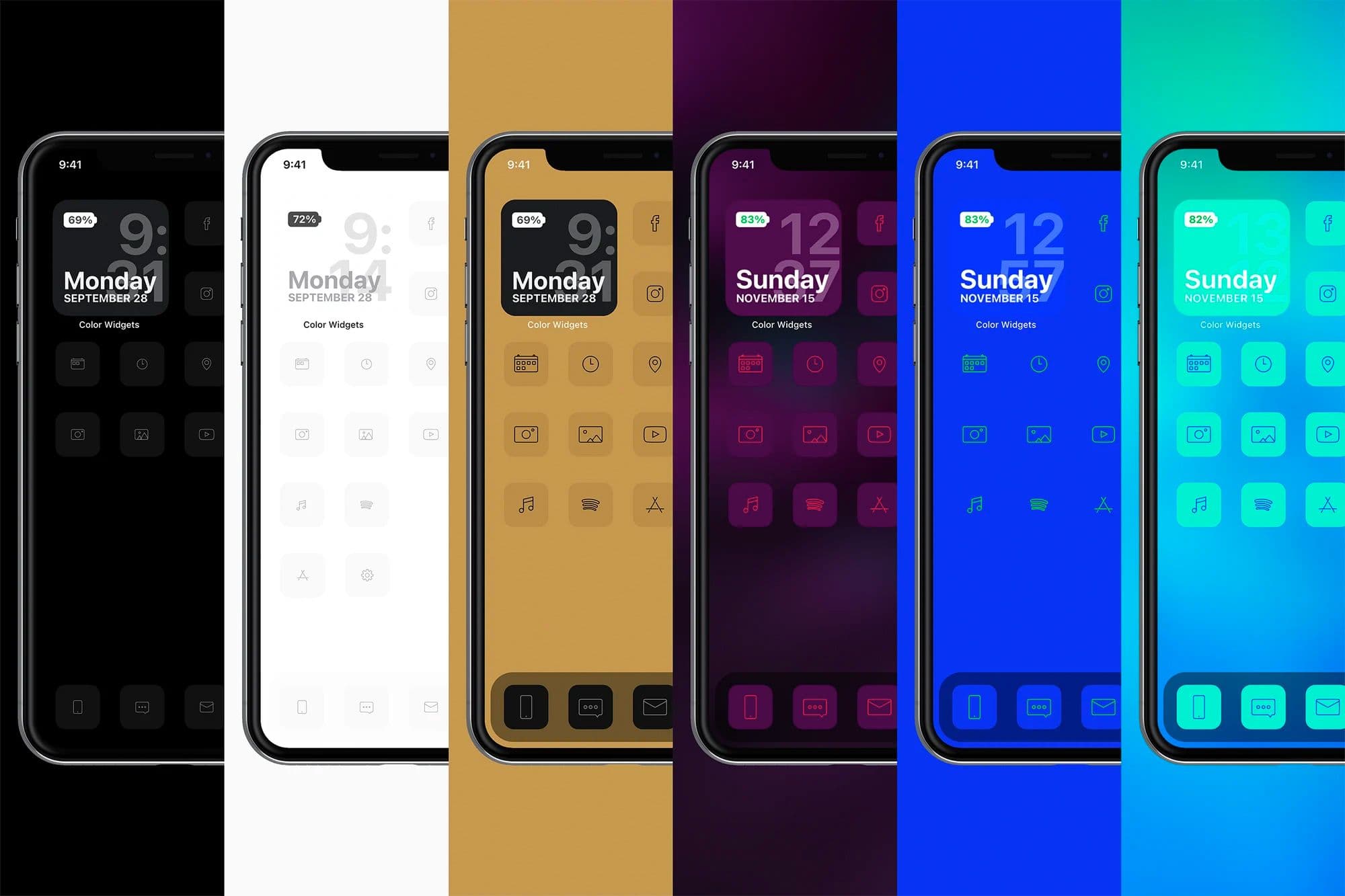 Get Calm icons for apps
You can mix and match icons of particular colors with others. The icons all match with one aesthetic giving it a cool and calming sense. Instead of being cluttered your phone is awash in one hue.
The black & white app icons are really popular.
The iPhone IOS 16 is here to facilitate your aesthetic dreams with icons
There are a lot of apps and designers launching IOS 16 icon packs or setting up new marketing strategies in hopes of grabbing iPhone users attention with their new collections of iso icon packages.
There has always been a strong desire to create among iPhone app users. Apple fans have been flocking to Apple products for years because of the sleek icons design and artistic release of many of their ad campaigns.
This new development allows for users to put their own spin on the Apple products. Some people are going to great lengths to draw their own versions of the app icons and replace them with their own. Search app icons on Twitter for ideas and shows of creativity.
If you don't have hours of time to spend creating your own IOS 16 app icon design, many apps such as Widgesmith or the Shortcuts app have many ways to make customization easy and fun.
There are those of us who want to create and then some of us just want the illusion and are happy to substitute others works of creation.
How to customize your iPhone with IOS 16 and app icons
There are many ways to customize your Phone with the IOS 16 update, ranging from changing the color to changing each individual app icon. One of the main reasons this has elicited so much excitement is that iPhone users have never had the creative width that widgets now provide.
Widgets are interactive icons that update automatically, like the weather app showing you the daily changes in weather or a photo widget that changes based on the time of year. You can change the size of the widgets and the ones you use the most become the most intelligent ones and can give you all the information you want at a glance.
You place it where you need it. The IOS 16 even allows you to Smart Stack your widgets so that they appear at the most useful point in your day.
As humans we like to leave our mark everywhere we go. Even with all its user friendliness the iPhone, has left their consumers want. If you want your iPhone app icons to reflect who you are, now's your moment. Even with a quick color change, your phone may feel a little bit more like home.
How to change the app look on your iPhone home screen
Now is the time to portray the aesthetic you've always wanted on your phone's home screen. With just a little help from a few apps your boring home screen can be full of color and creativity. A perfect reflection of its user.
You're going to need the Shortcuts app which is already installed in your iPhone.
First, you tap the plus icon in the top right corner and then select 'Add Action'.
In the search bar, type Open app and select the 'Open App' app. Select 'Choose' and decide which app you want to customize.
Tap the three dots in the upper right corner. From here, give the shortcut a name and tap 'Add to Home Screen'.
How do I add custom icons to my apps?
Finally, find where it says 'Home Screen Name' and 'Icon' and then rename the shortcut to anything you'd like. Just like that you will have revamped your entire phone.
It's almost like a relaunch of a product or a rebranding campaign for your device. We use our phones for so many hours of the day, it only seems right that they reflect who we are.
From there you can even go online and search for a new icon image to replace the former apps' icon imagery. Once you find something you like you can save it to your photos.
Go back to your Shortcuts app from there and tap on the icon you want to apply this photo to.
Select 'choose photo' and tap on the image that you saved and presto you have individuality.
How to improve your home screen with Widgets?
You can also customize your home screen with widgets using the app Widgetsmith. This you will need to download onto your new aesthetic iPhone. This app can help you if you're looking for variety in widget size and customization.
Once you have the app downloaded you can choose the size widget you want, its color and font style, and then you can add these to your home screen.
How can apps and widgets improve your life?
Many people are using IOS 16 to transform their iPhone into a new tool altogether. The interface of the iPhone has always been the same grid-like, formal setting. Now there are IOS 16 app icon packs that come in certain apps. Some come with the free app and others can be bought.
The purpose of downloading a iPhone icon pack is to have fun but they can also be helpful.
Does the icon customization work on older OS versions?
There are many app icons and widgets to choose from now, thanks to IOS 16, that can spice up your older model iPhone or even your iPhone 12.
The icons for apps are classic and if you don't want to replace the app icon itself you can always just be pleased with organizing them. But change is always good and it might be time to try something new, if only because now you can.