Published on:
Best IOS 16 Home Screen Ideas to customize the aesthetic layout of your iPhone theme
Authors

Name

Twitter
With the Apple IOS 14 update users got a new, although hacky way to customize their home screen with ios app icons.
The functionality is still not native, but it did show what do the users want or have been missing.
Some apps like Instagram even added a feature to natively change the app icon from their apps, which is really amazing. Any feature added costs money and resources for the company, development is pricey. They want to give the best user experience possible to their users and make them happy so it makes sense to help them.
Apple may also add such home screen features in the future, maybe IOS 15 already, who knows. But the users really want to personalize and customize their phones and express their creativity. This post will talk about some IOS 16 Home Screen Ideas you can either get inspired from or copy.
Table of Contents
IOS 16 Home Screen Ideas
First thing you need is to find some good app icon themes you like. This Calm icon set is one of the best and popular one out there at the moment and gives you 6 different themes to either use alone or mix and match.
Be creative, use your imagination and don't forget to share your ideas.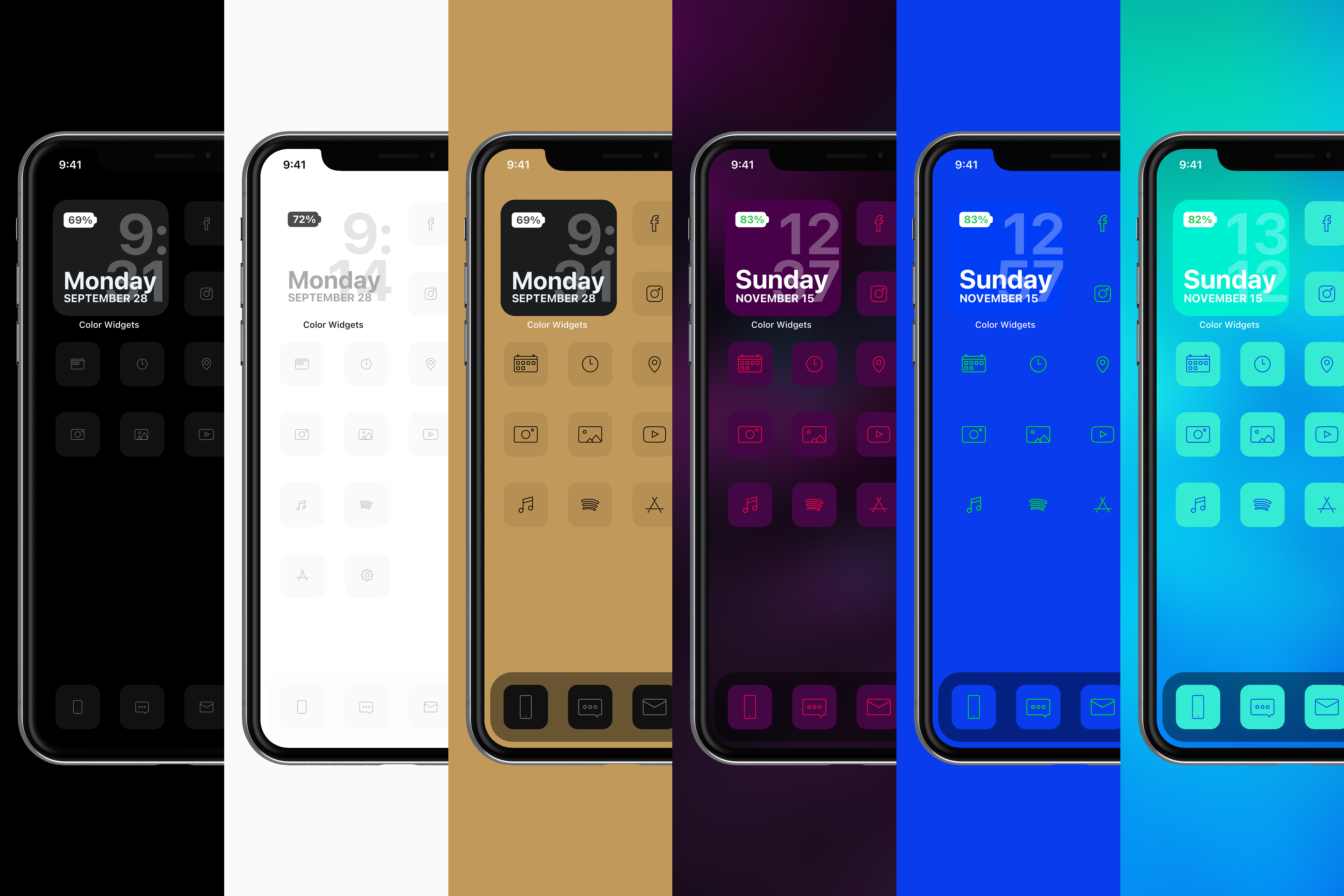 Download IOS 16 icons
5 IOS 16 home screen aesthetic ideas for your iPhone
It's hard to achieve the great design and beautiful aesthetics if you're not a graphic designer. There are a lot of design tools out there, but knowing the tool won't help you. You'd need to understand color theory, composition, layout, systems,... the design field can go really deep. Icons are just a small part of the whole field and there are people that specialize at doing just that.
The above icons have been designed by a designer so they're extremely high quality.
Here are some home screen ideas on how you can mix & match the icon themes to get a great looking screen.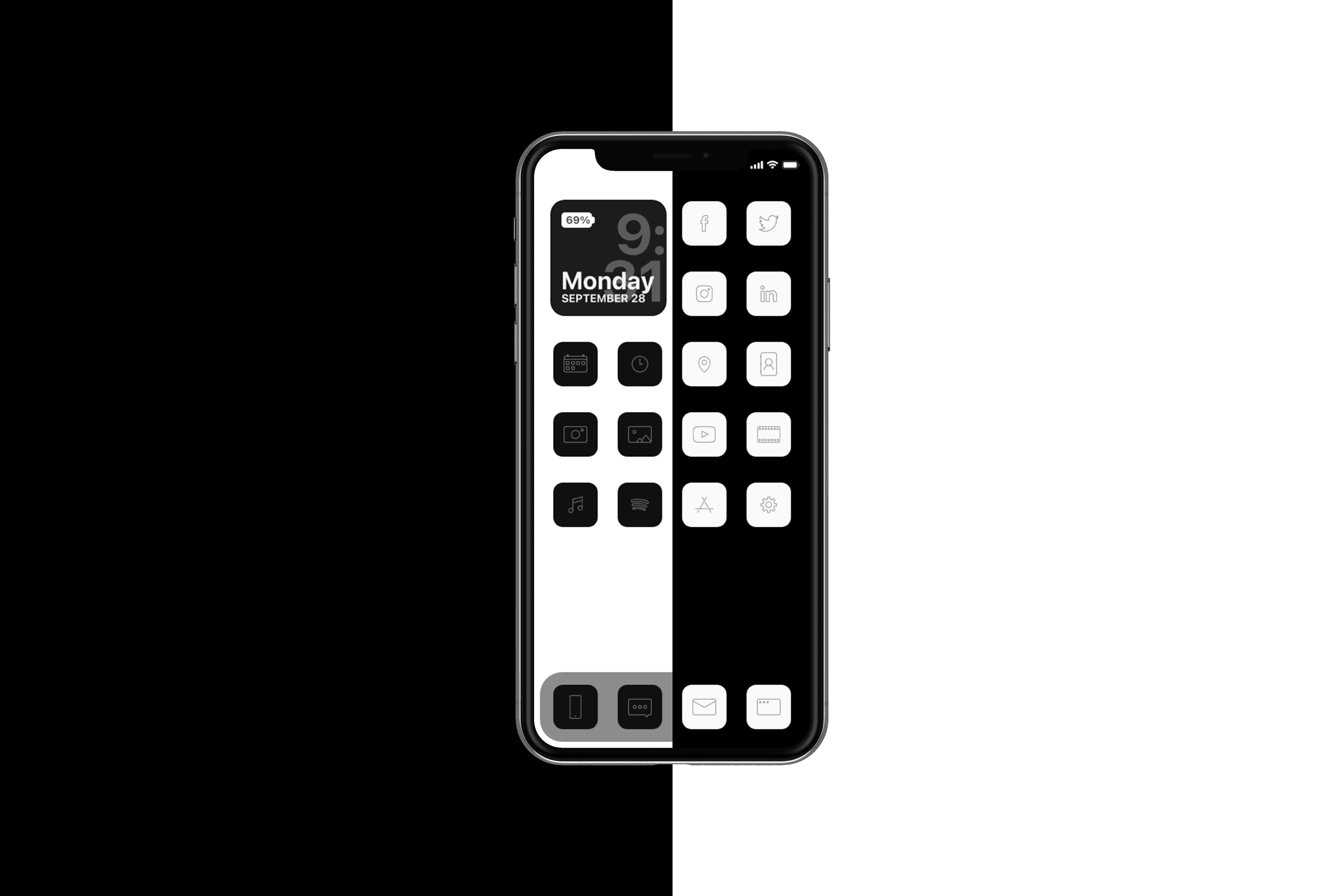 Download IOS 16 icons here
Clean IOS black theme app icons with wallpaper idea
You can achieve a really amazing hi-end aesthetic by using a black & white photograph as a background and use the black Icon set from the Calm themes. Here's a great example of such a home screen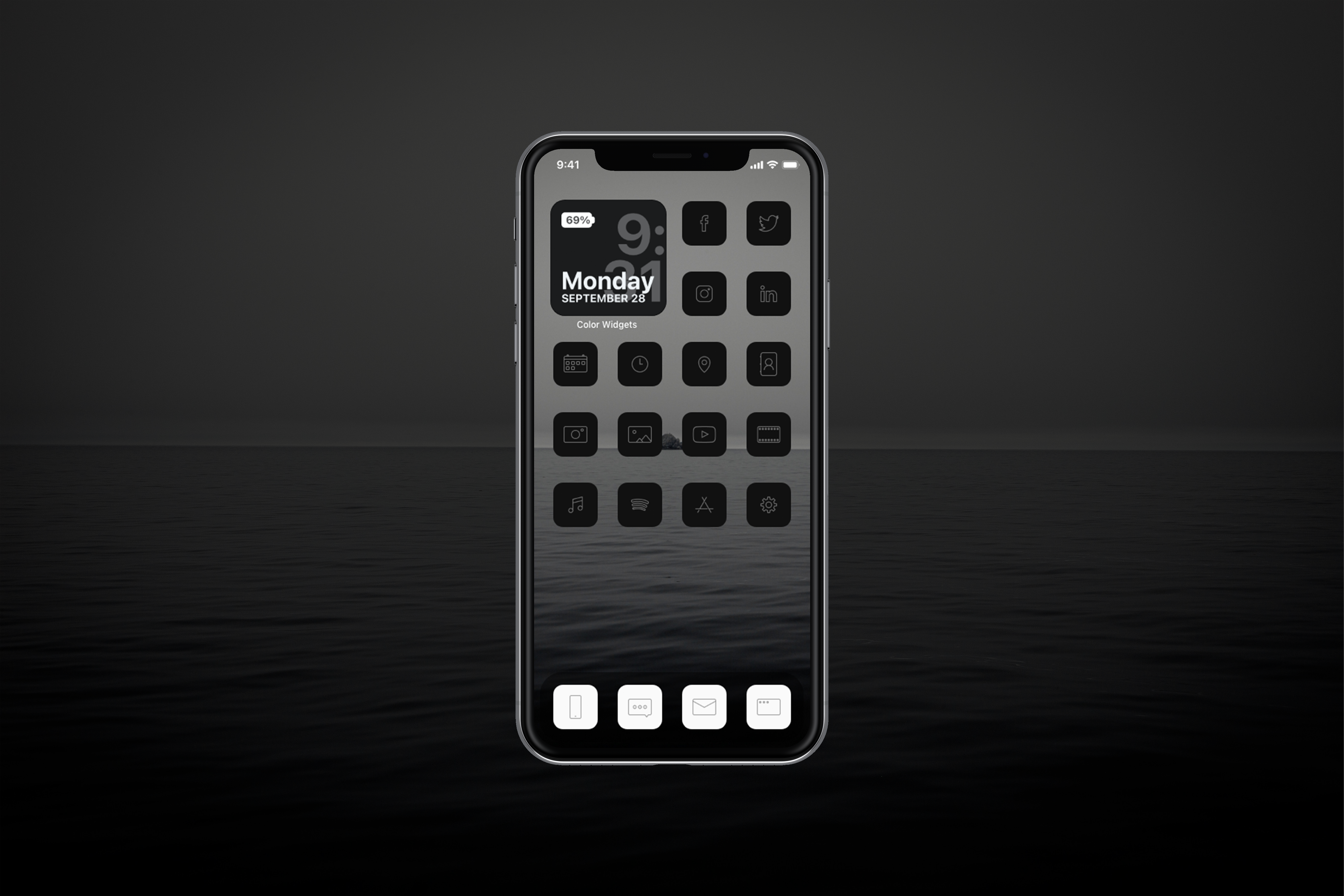 Best design of IOS 16 home screen themes
Here's a list of some of the trending ios home screen themes you can find on the internet. Some were also featured on sites like PicMonkey, Mashable etc. so they're really popular. Best aesthetic designs where there's a theme for anyone. Some iPhone app icon themes with wallpapers also come with discount deals.
Read this article that explains in detail how to change ios 16 app icons.
IOS 16 iPhone home screen layout with widgets
With just a tap on a widget, you can add more functionality to your home screen, not just opening apps as shortcuts. Widgets are an aesthetic upgrade and a smart way to improve user experience. The 2 below are one of the best and also the first ones that came out so they're popular and have regular updates.
If you search the App Store for widgets you will find loads more with the exact functionality and goal you want the widget to do.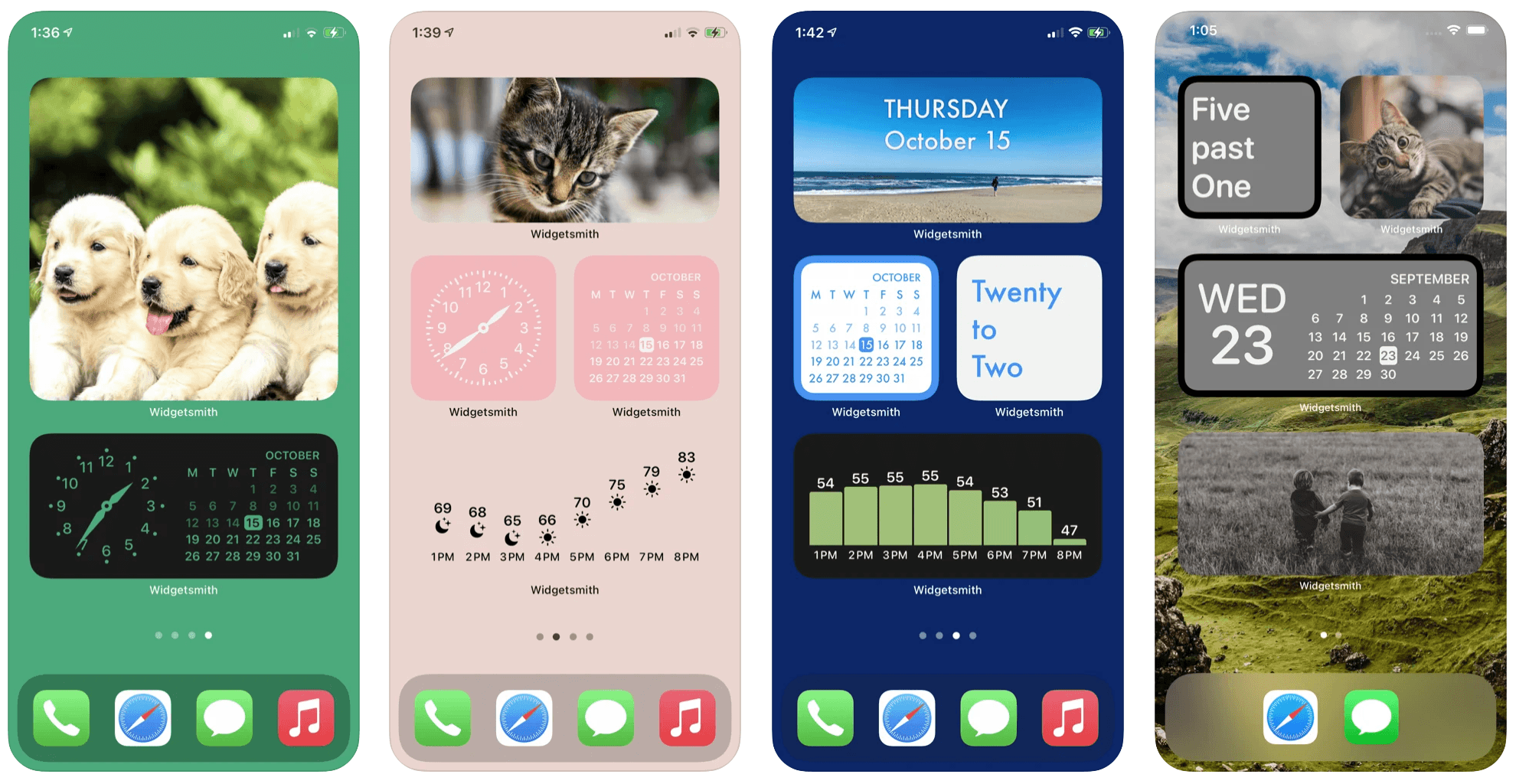 Get Widgetsmith
Get Color WIdgets
How to edit home screens IOS 16 widget
There are two ways on how to edit home screen ios 16 widget, first one is to tap on the screen and hold until you see the "-" icons, then tap on the widget to open settings. The second way is to edit the widgets inside the original app, probably on a settings screen.
With IOS 16 being new and these functionalities not being tested, things may change and improve in the future. But for now everything is a bit experimental. But the iPhone screens and widget use is going to increase in use and popularity quickly with new aesthetic styles.
IOS 16 home screen setup with app icons
There are three ways to set up your home screens app icons.
The original way is with the Shortcuts app. The problem here is that after a tap you see the Shortcuts app open, and then switch to the chosen app.
You can use Icon Themer Really popular, but some people argue installing it may be unsafe as it's a 3rd party app and the way it customizes the ios 16 icons is a bit hacky.
Try the Launch Center Pro This one is on the App Store so it is safe and comes with some really great features.