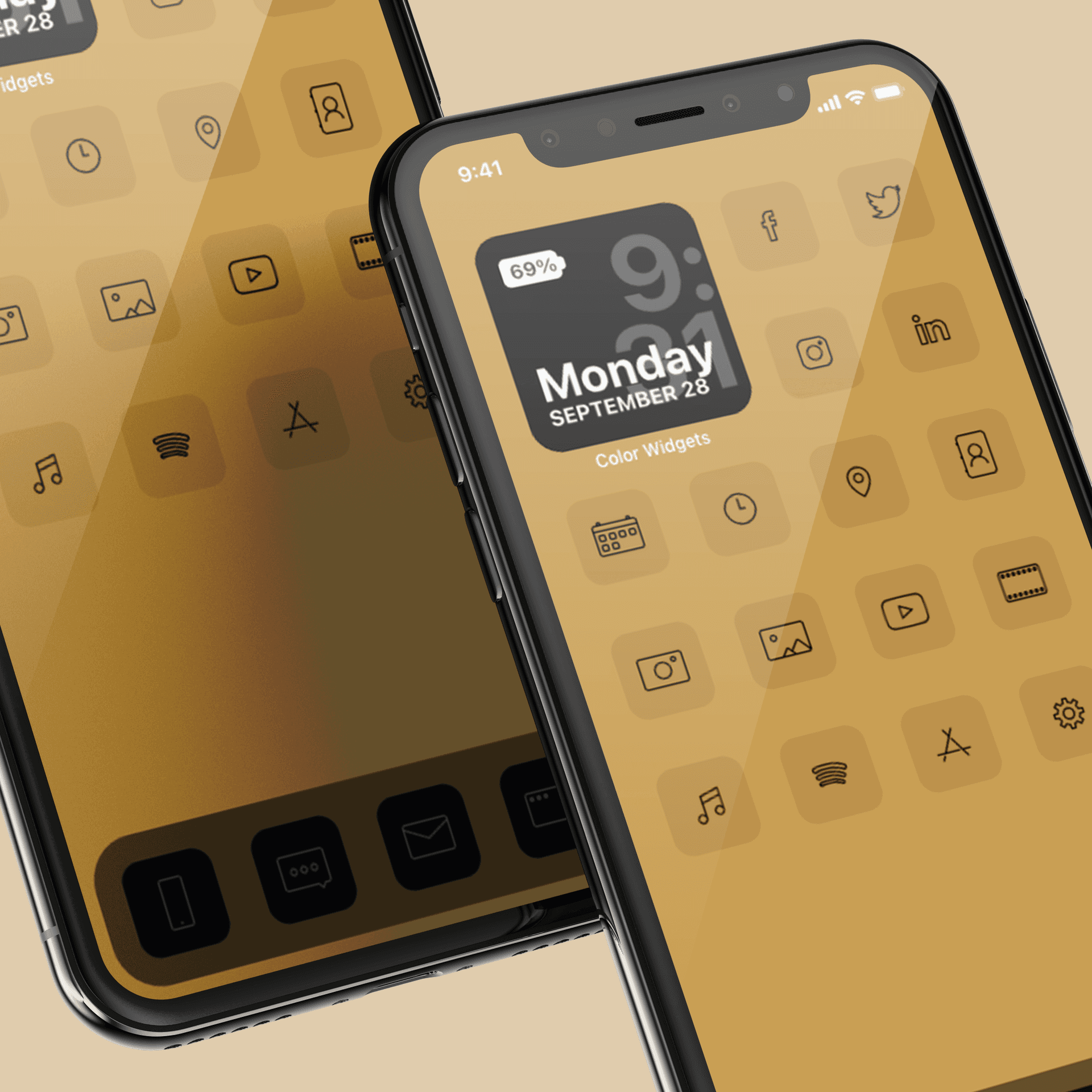 380+ Calm Gold IOS App Icons
for iPhone & iPad
Take your iPhone home screen to the next level with the Calm Gold IOS App Icons. Each icon has been carefully designed to ensure that it looks great on any background, so you can customize your device with ease.
App Icons
Normal & Seamless variation in both High & Low Contrast
381
$5
Buy Now
100% MONEY-BACK GUARANTEE
14 Days to try. Not for you? Get a full refund.
Are you looking to give your iPhone home screen a new look? Tired of the same old boring app icons? Well, I'm here to show you how to customize it with gold app icons! With just a few simple steps and minimal effort, you can take your device from drab to fab. Whether you're an experienced tech guru or a beginner who's never customized their phone before, this guide will get you up-to-speed on customizing your home screen with dazzling gold app icons. So let's get started!
The first step in giving your iPhone home screen a unique look is to find the perfect icon set. There are plenty of options available online but make sure they match the size requirements for iOS devices so they don't appear blurry or distorted on your home screen. Once you've chosen the right set of icons, download them onto your phone and open them up in the Shortcuts app. From there, select all of the downloaded images and press 'Add To Home Screen'. This will add all the gold app icons into one folder which makes them easier to access and move around later on.
Finally, it's time to start arranging everything – that's where all the fun begins! You can arrange each individual icon as desired by simply dragging and dropping them into place until you have achieved perfection. Don't be afraid to experiment; after all, it's YOUR home screen so why not express yourself through its design? That way, when anyone picks up your phone they'll know exactly whose it is without having to guess! Now go ahead and create something amazing - happy customizing!
How To Choose The Right App Icons
Choosing the right app icons for your iPhone home screen can be a daunting prospect. I'm here to help you make it easy and fun! When selecting app icons, there are many different styles and themes available. Before settling on one type of icon, consider which style would best match your personal aesthetic preferences or those of the people who will use the phone. For example, if you're looking for an elegant gold color scheme, try searching through apps with golden hues that blend well together. Additionally, think about what kind of theme each icon conveys - is it funny? Serious? Stylish? Whimsical? Selecting an array of diverse yet complementary app styles creates an interesting visual impact and adds personality to your device's home screen.
One way to further customize your look is by customizing individual app icons using photo editing tools like Photoshop or GIMP. This allows you to create unique designs tailored specifically to how you want them displayed on your device's home screen. With this approach, you'll have complete control over every aspect of the design process from choosing colors and fonts to designing shapes and sizes. In addition to giving your home screen a more personalized feel, creating customized app icons also helps differentiate between similar-looking apps at a glance so they're easier to find quickly. Now let's bring all these elements together in perfect harmony!
Designing Home Screen Themes
Designing your own home screen theme is a great way to express yourself and personalize your iPhone. When it comes to customizing apps, gold app icons are always a popular choice! Not only do they add a touch of sophistication and luxury, but also help create an eye-catching aesthetic that will make your home screen stand out from the rest. Plus, with so many different designs available, there's something for everyone – whether you prefer classic or modern design elements.
To start designing your own unique Home Screen Theme, here are some helpful tips: Choose colors that work together; use complementary shades to contrast each other; decide if you want to go for light or dark themes; experiment with various fonts and sizes; consider using vibrant backgrounds with bold patterns; choose meaningful images as part of your background; and lastly, have fun customizing the icons on your home screen! Whether you opt for gradient color schemes or geometric shapes, there's no limit to what you can do when creating your very own personalized theme. With just a few clicks of a button, anyone can transform their phone into a beautiful masterpiece.
Steps For Installing Gold App Icons
Installing gold app icons is a great way to customize your home screen and create a unique theme. With just a few simple steps, you can have the perfect look for your iphone. Here are the steps you need to take in order to install gold app icons:
Download an icon set: To get started, you'll need to download an icon set that contains all of the gold icons you want. Look for sets with lots of options so that you can find exactly what you're looking for.
Research custom themes: You should also research custom themes online and check out other people's designs for inspiration before downloading anything. This will help ensure that the design looks good on your device.
Get creative: Once you've found the perfect icon set and chosen a theme, it's time to get creative! Start by rearranging apps on your home screen and adding some decorative elements such as wallpaper or stickers.
Once everything is ready, installing the new gold app icons is easy - simply drag and drop them onto your home screen! With this process completed, your phone will now feature stunning visuals that showcase your personal style. Enjoy!
Conclusion
As an expert in iPhone home screen customization, I can confidently say that customizing your home screen with gold app icons is a great decision. Not only are they compatible with all iPhones, but also the process of installation is fast and easy to understand. Plus, if you ever want to revert back to the original home screen design, it's completely possible!
However, there are some risks associated with this type of customization. It's important to always keep up-to-date on any changes or updates to the apps you have installed as well as any potential security issues. That way, you can ensure your phone will remain safe and secure while having the best looking home screen around!
In conclusion, personalizing your iPhone home screen with gold app icons is a great way to stand out from the crowd without compromising safety or reliability. With just a few simple steps and at little cost, you can easily customize your device for an aesthetically pleasing display!